These 17 brands are cutting plastic from their products in unexpected ways
Lipsticks, laundry tablets and even chewing gum often come loaded with plastic — but it doesn't have to be that way.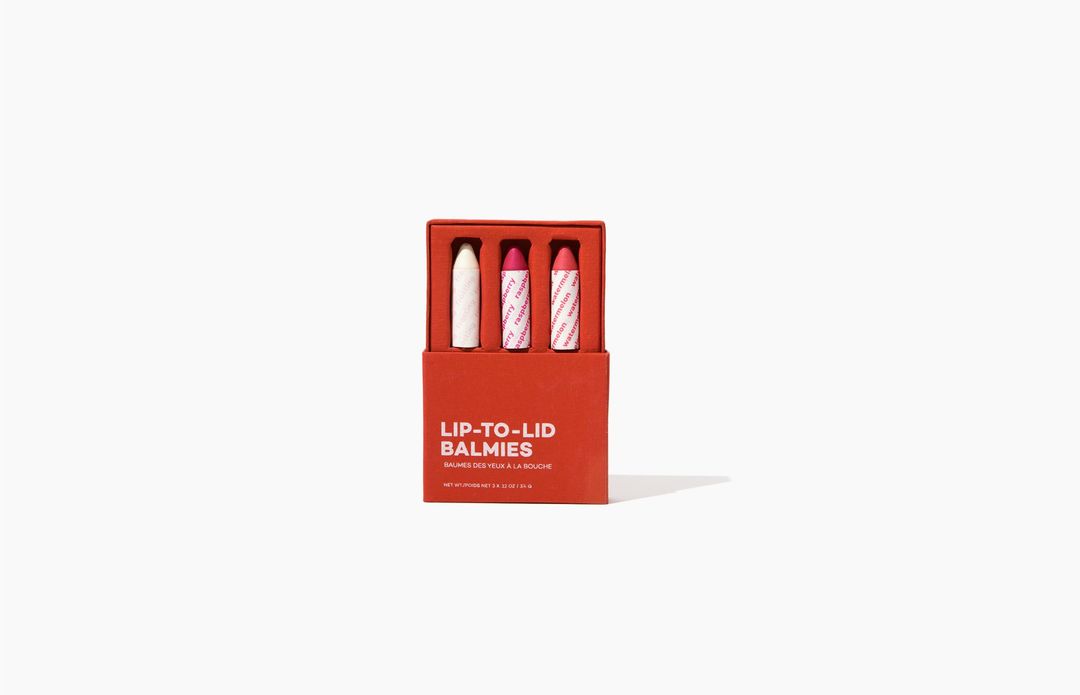 Every year, the average U.S. citizen produces 130kg of plastic waste — the highest rate of any country in the world.
Most people are aware of how their shopping habits contribute to this problem, but change is tricky when plastic is simply everywhere. More than 2 million plastic razors are sold every year in America, while the global deodorant industry is responsible for 15 million pounds of plastic waste annually. In total, the beauty industry contributes 120 billion units of plastic waste per year, and accounts for a third of all rubbish found in landfills. Even chewing gum, of which billions of single-use sticks are chewed each year, contains plastic.
Fueled by this growing concern, a number of direct-to-consumer brands have set out to prove that it doesn't need to be this way. Launched in 2020, Axiology makes lipstick "crayons" that swap the usual plastic tubes for paper that can be peeled away as the product is used, while personal care brand Wellow released a deodorant housed in a cardboard tube in March 2021. Chewing gum brands such as Nuud Gum and True Gum have swapped out chewable plastic with natural tree saps, and companies like detergent business Washland and personal care brands Sunrise Session and Plus have been experimenting with different ways to dehydrate liquid formulas, so they can be sold as solid strips.
"The aisles of Targets and CVSs [are] truly a sea of plastic bottles," says Cathryn Woodruff, cofounder of Plus. "Our vision is that [one day] that aisle is not all single-use plastic, but there are new formats and different ways of doing these everyday activities without compromise. There's a huge opportunity there."
How brands ditch the plastic
In some product categories — such as razors — the plastic can simply be swapped with metal for a like-for-like replacement. The customer barely notices the difference. But it's not always so simple.
Woodruff says it took a fair bit of convincing to get suppliers and manufacturers to take Plus, then an unknown brand, on as a client. The body wash itself, which is essentially a foamy strip of dehydrated product, had to be designed from scratch, while the dissolvable paper sachets the strips are sold in were sourced from a supplier who hadn't used the material for a bathroom product before. The final product is a body wash where every element dissolves in the shower as it is being used (the wrapper can be tossed on the shower floor, and will vanish within 30 seconds).
And while a cardboard tube might sound like something that's easy to get a hold of, Wellow says the design had to go through a number of iterations to get things like the size of the cardboard push-up disk (so the deodorant didn't get stuck inside the tube) and the durability just right (cardboard is prone to scuffing, unlike plastic).
The brands say the finished results have been worth the hassle. By ditching plastic and opting for a dry product, Plus says its products use 38% less water than a bottled body wash, and result in 80% fewer carbon emissions when shipping. When empty, Wellow's cardboard tubes can go in the recycling or on the compost heap. And because it functions just like a regular, plastic-housed deodorant, the brand's founder Dan Hernden reckons it could be easier to convert customers than if Wellow used a refillable format. "People are used to grabbing a stick of deodorant and disposing of it when they're done. This [format] kept that convenience and ease of use factor," he says.
The future of plastic-free formats
Consumers want the brands they shop with to do more when it comes to the environment, with one recent survey finding that 78% of Americans say they're more likely to buy a product that makes its environmental credentials known.
Getting people to actually do what they say might be tricky at the current price points of these brands. A tube of Wellow's deodorants costs $12. An aluminum tube of Akt deodorant, meanwhile, will set you back £18 and is only estimated to last six weeks. Plus sells packs of 16 sheets of body wash for $16.50. By comparison, Dollar Shave Club says a bottle of its $7.50, 16oz body wash can get you through at least 45 showers.
Scale will be key to bringing down those prices. Young brands buy packaging and ingredients in relatively small quantities, which tends to drive prices up, particularly when using a novel format. Hernden estimates that it costs Wellow two to three times more to purchase cardboard tubes as it would a plastic equivalent for its deodorants. "I suspect the cost will come down over time as it becomes more of an industry standard," he says. "Right now, most personal care brands' supply chains are set up to produce liquid formulas in plastic packaging."
"There's a price premium," Woodruff agrees. "But our goal over time is to make that more accessible as we scale. If a bunch of small companies can start pushing the industry to plastic-free formats, that can really make a difference."