OffLimits: A cereal brand that's reviving '90s counterculture
A "character and community-first" brand brought to you by breakfast expert Emily Elyse Miller.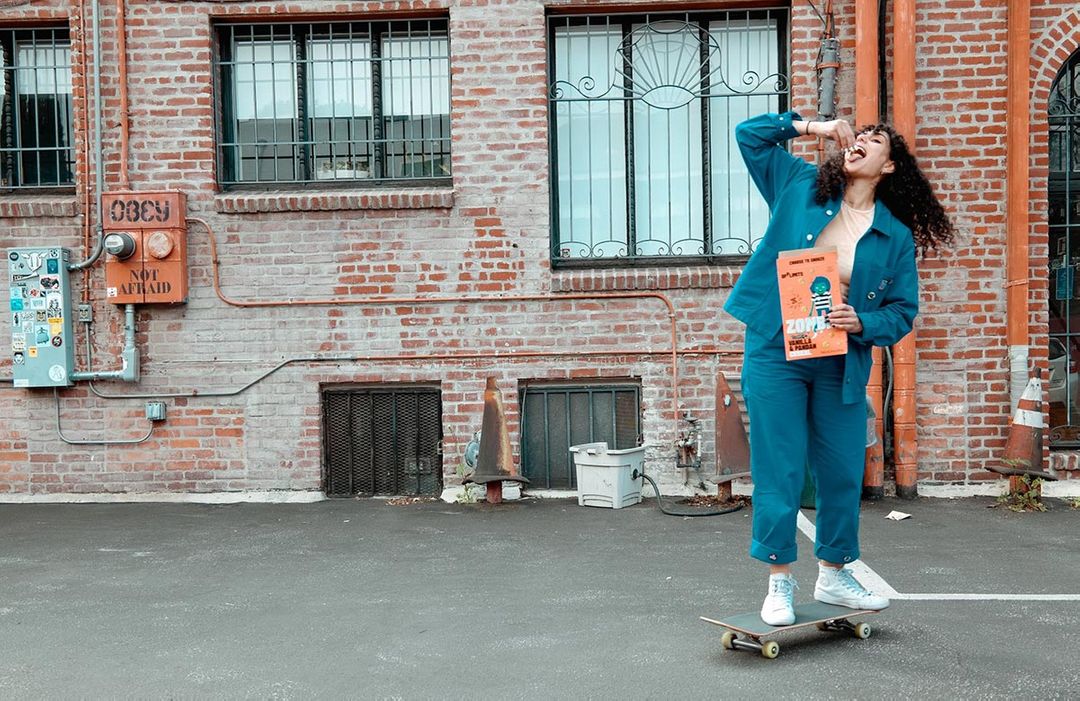 Moody brand ambassadors, lashings of nostalgia, and plenty of borrowings from streetwear and skater culture – Emily Elyse Miller's new brand OffLimits isn't just about selling breakfast food, it's about creating an alternative world. We asked her to fill us in on the mechanics of her cereal brand, beyond what's in the bowl.
Tell us a bit about your new brand, OffLimits.
Cereal is such a special product that hasn't really been innovated on for a while, because it's dominated by a few major brands. I wanted [to create] something that has the cool kid's vibe of Kellogg's, with the thoughtful ingredients that you find in the natural cereal space.
My background is in food and design, and to me cereal is the perfect vehicle for culture, because it's visual and has these characters. But I wanted them to have more of a relatability factor – there are no female-identifying cereal characters [for example]. By building a brand that's character and community first, it's a way to amplify the voices of people who don't always get a say.
We get roped in with them, but we're actually very different. We're not a diet cereal – we're here to provide some fun and be healthy doing it. Our idea is that we're shifting a bit of the attention and opportunity from Kellogg's to something that's of equivalent taste and excitement level, but with way better ingredients. As we scale, we can get our prices to be at that place – but as a startup it's tough.
So what are you doing to get that excitement factor?
Our website is built like an arcade, so every box of cereal you buy equates to tickets, and at checkout you get to choose the toys you want based on how many tickets you have. We're taking from streetwear culture – that's a lot of what the brand is inspired by – and are going to be doing lots of collaborations and drops that are going to exist in the toy store only.
So to get those cool, collectible toys, you're buying the cereal, you're engaging with the brand in a full-circle way. And it's just fun. I feel like direct-to-consumer has become so transactional. I don't even care if people buy things on the site. We have a fun little easter egg game, and there's a few pop-ups that have games, too. There's a chat room that we're building out, and because Zombie is really into eSports, we'll definitely be getting into that category as we grow.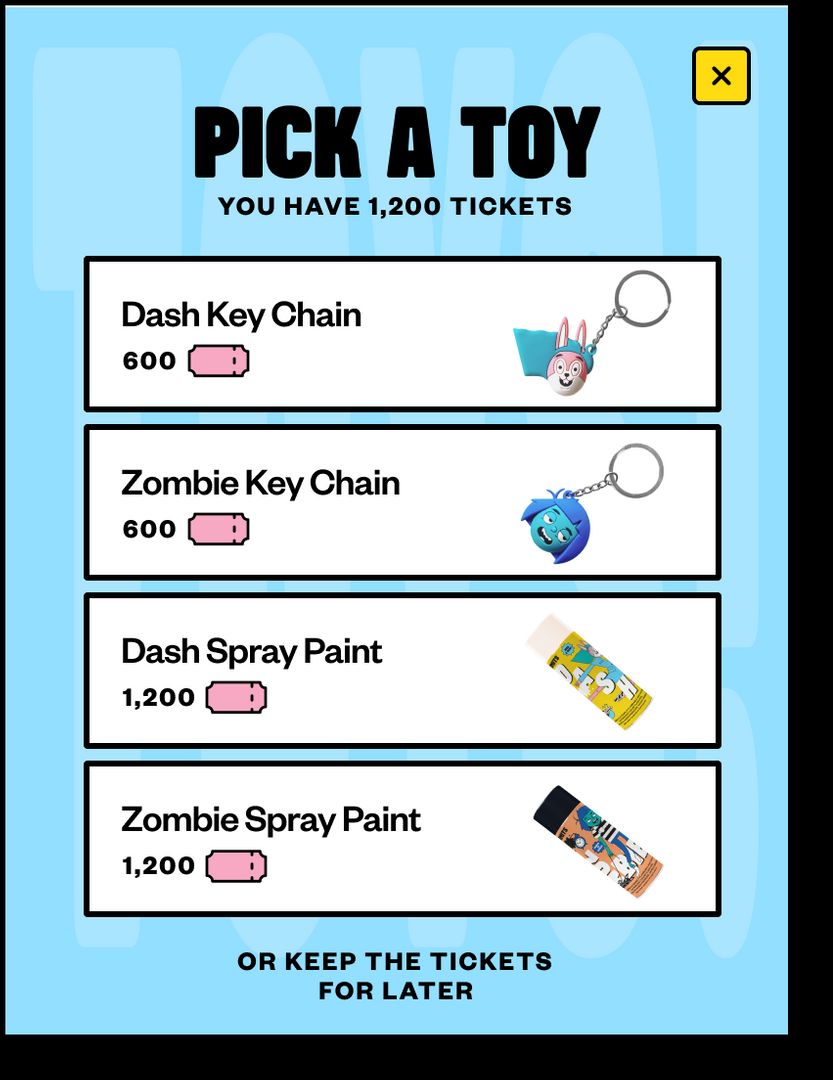 And there's the gallery, too. Why does a cereal brand need to sell art?
The whole brand, for me, is about empowering creative entrepreneurs. We did our pre-launch event in LA at Shepard Fairey's Subliminal Gallery. Then Covid happened, and all the galleries had to shut down, but we still had some art from our show. So we just thought we'd make this digital, so everybody has access to this art.
Can you introduce us to your brand mascots?
Yeah, Dash is an early bird, hustler, always feels like she needs to be doing more. She deals with the pressure of trying to be successful and trying to figure herself out. Her cereal is coffee and chocolate, and it turns the milk into cold brew.
Zombie is the opposite. Zombie is the chill, stay-in-bed-playing-videogames, skateboarder that's into wellness – like your friend who is always low-key relaxed. But because of that, Zombie sometimes deals with depression and is a bit more introverted. Zombie's cereal has bright green spirulina and the main flavour profile is vanilla and pandan.
My dream is that [one day] the characters can be doing these interviews. By putting the cartoons first, we can say how we really feel about a lot of things.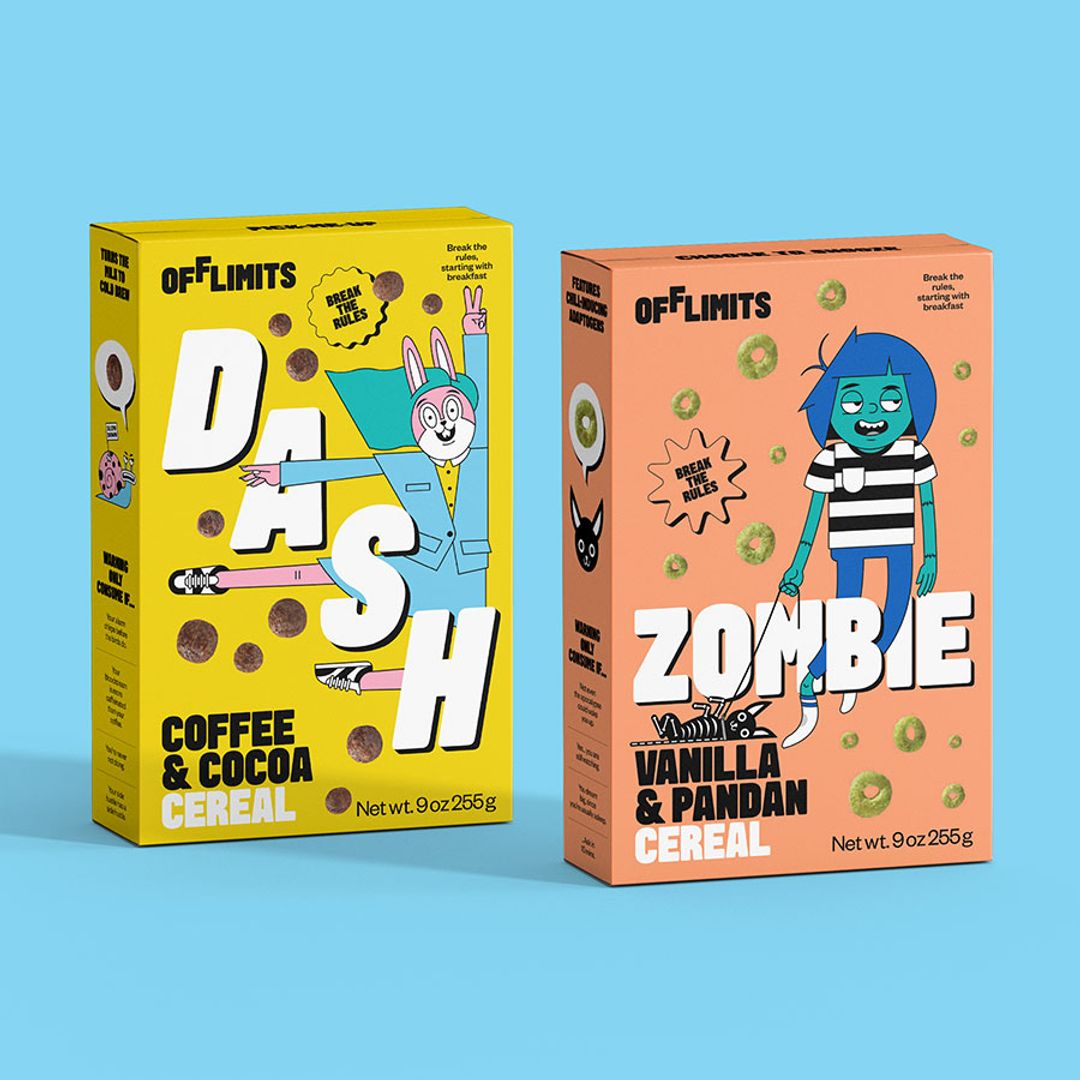 Wait, how will that work?
[Maybe we could] set up a platform so journalists are reaching out to interview Dash or Zombie.
I mean, they each have their own Instagram accounts, they each have their own Twitter accounts, they comment on everything that's culturally relevant to each of their interests. Our customer service is [already] run by the characters, and we find people respond in a totally disarming way.
If we respond as Dash, they'll start having conversations with Dash. Or they'll reach out to Zombie and ask where their cereal is and Zombie will just be like, "I dunno, USPS sucks, let me check". Brands are so over accommodating and it builds this barrier between consumer and brand. We're trying to break that down – we're people too.