How are direct-to-consumer furniture brands beating the supply chain squeeze?
Some furniture brands are saying they can get a custom-made sofa to you in a week or two, even amid supply chain chaos. How is it possible?
"You know how long it takes me to do a sofa? A day," says Edgar Blazona, a furniture designer and the founder of BenchMade Modern, a seven-year-old custom sofa brand. "But," he adds, "I have a long line of people all waiting."
Shoppers have become more aware of lead times in the furniture industry, as pandemic-related shutdowns slowed down the entire sector. In February, the Financial Times reported that container costs for furniture items were up by as much as 1,200% since the start of the pandemic.
Meanwhile, factory shutdowns in Asia, where much of the world's furniture is made, has led to further bottlenecks. Writing to Vox, one frustrated West Elm customer described the months-long wait for a bed frame to arrive as "an existential nightmare."
Brands are doing what they can to reduce waiting times, including bringing manufacturing closer to home. Last year, U.S. furniture company La-Z-Boy added three manufacturing facilities in Mexico, while U.K. homewares brand Made.com says it has been stocking up on sofas at its warehouses in order to have them closer to customers.
Made-in-America furniture brands appear to be having success when it comes to bringing down wait times. Modular sofa brand Allform says that this time last year, it was taking 12-15 weeks to fulfill sofa orders — today, it's promising to get them to you in as little as a week. "In the heat of the pandemic, we weren't immune to those supply chain problems. Compared to retail it was still better, but we've worked hard on bringing that down over the past couple of months," says Jerry Lin, cofounder and chief operating officer of Helix Sleep, Allform's parent brand.
After upping delivery times during the pandemic, BenchMade Modern has now returned to offering two-week delivery on some of its models — the rest it says it can get to customers in about five weeks.
Made-in-America sofas
Because Benchmade Modern and Allform's products are customizable, they can't simply pull ready-packed stock from a warehouse.
It's a manufacturing process that is helpful in that you don't have to worry about the sofa getting stuck in a port, but it doesn't fully insulate the brand from supply chain problems. Even products that can be purchased close to home can be hit by unexpected shortages: last year, winter storms in Texas and Louisiana forced a number of plants producing foam-making chemicals to go offline.
"We work on the supply chain side to make sure we have all the [materials], and we also like to tell our customers what we have and what we don't have," Blazona says, adding that every time a roll of fabric has been used up, that option will be removed from BenchMade's website until the stock has been replenished at the factory. "We'll let you know right up front — we don't have red fabric. It's not an option for you."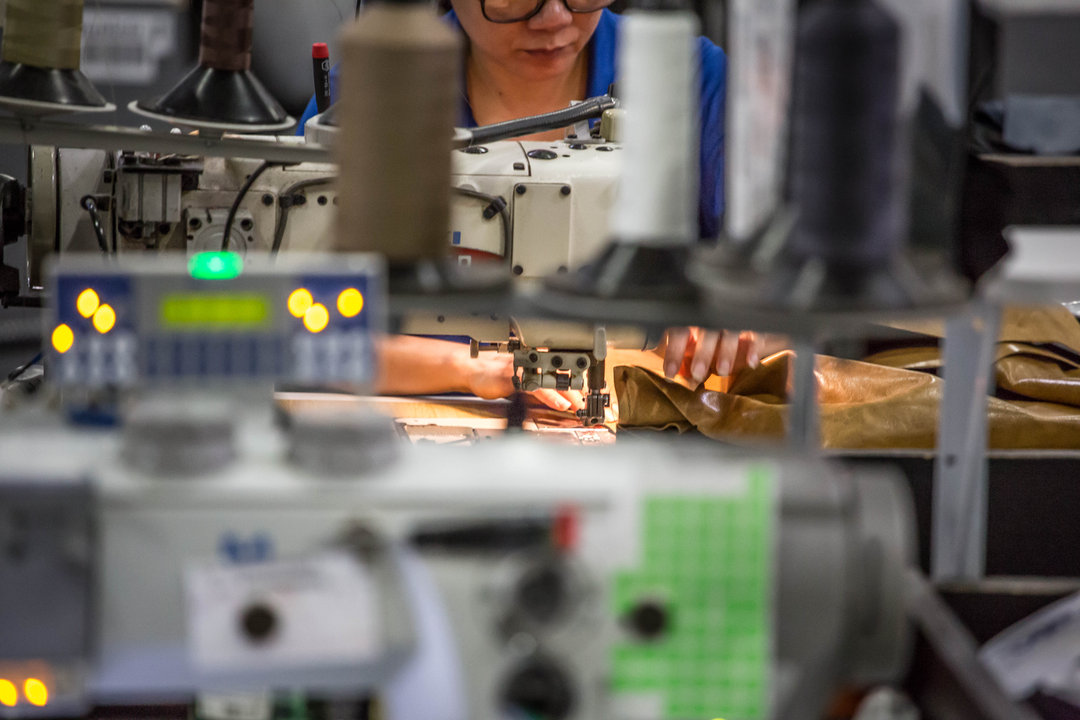 How long does it take to make a custom sofa?
So why, if a sofa can be made in a day, do we have to wait up to four weeks for it to be delivered?
"The sofa industry is pretty archaic," says Blazona, explaining that the most common reason a customer is waiting for their sofa is because the brand that sold it to you is waiting almost as long for a free production slot at the factory. This timing has been particularly tricky during the pandemic, as workers have been isolating due to COVID. "What's really happening at factories is the line has been backing up."
Allform's sofas use a modular design, where set components are configured into the size and shape a customer wants.
This setup helps speed things up in the factory — some parts can be made up fully in advance, ready to pick and pack once an order comes in. Lin says this is why Allform's delivery times vary from between one to four weeks: those people getting their sofas the fastest are probably buying the brand's most popular product (a three-seater in grey, Lin says). Those waiting up to four weeks have probably ordered a less popular color, like red or yellow, and are waiting for their cushions to be upholstered. Lin estimates that some Allform sofa parts are made up as much as a month in advance before they are sent out to customers.
For Benchmade Modern, which makes its sofas by the five inch increment, everything is made on demand in a process that takes about a week in total once it is on the production line.
Paperwork is sent to the factories, that then take the order from start to finish, cutting fabric to spec, sewing cushion covers and upholstering the seats and backs of the sofa. Some of the process is automated — patterns are programmed into the fabric cutting machines, for example — but much of the process is done by hand, by expert craftspeople who know how to tension the fabric just right, or make a perfectly springy frame. The sofa is then packaged up and sent off to the customer.
Shipping is another part of the process where things can get complicated. Because Allform uses a modular design, it can send its sofas in parts through FedEx, bringing the cost of delivery down (although customers will need to put the sofa together themselves).
For Benchmade Modern, the sofas are packaged up with the legs removed so they don't get damaged and are sent out via a "less than truckload" service for heavy goods. A last-mile company will later take over to offer a "white glove" delivery service where the item is placed in the room of a customer's choice, with the legs reattached and the cushions fluffed up.
Blazona says 50% of customers go for this delivery option over the much cheaper curbsite delivery. It's a finishing touch that will set customers back by $295 — perhaps a reasonable exchange for not having to lug a 300lb weight into the house. And anyway, it's nothing compared to the real cost of shipping an extremely heavy item with multiple services involved. "It costs me anywhere from $200 to $1,200 to get a sofa to you," Blazona says. "It's a complicated model."