These brands are reinventing the $46 billion energy drink market
The category is seeing double-digit growth, with a slew of new brands are now trying to compete against Red Bull and Monster.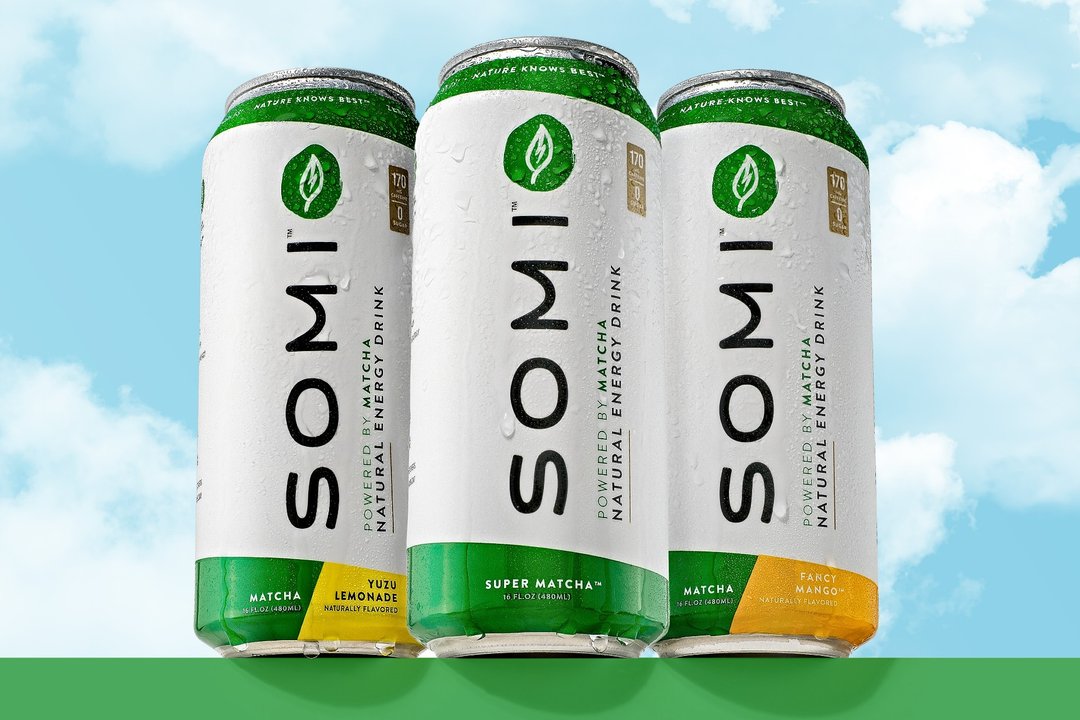 When Arianna Salinas was working in the hospitality industry, her pre-shift ritual was to crack open a sugar-free Red Bull.
She knew it probably wasn't very good for her, but was willing to overlook it. She just needed the energy boost. "That afternoon sugar-free Red Bull was a necessary evil to get through the shift," she explains. But it did get her thinking: Why can't energy drinks be that bit healthier?
In 2020, Salinas and her husband Angel decided to try and make their own alternative using matcha tea as the hero ingredient. After two years of recipe development, Somi launched in January of this year.
It's not the only new brand trying to take on the likes of Red Bull and Monster — which dominate a whopping 72.6% of the energy drink market in the U.S. Also in January, YouTubers Logan Paul and KSI launched their own sports energy drink under the brand Prime. Within minutes of launching, Paul said that 50,000 had been sold; it has been almost impossible to get hold of since. In October, Twitch streamer Matthew Haag — also known as Nadeshot — launched Juvee, an energy drink that claims to not only give drinkers an energy boost, but also improve focus and mood thanks to the better-for-you ingredients it contains. These brands follow in the footsteps of Tenzing, which launched in the U.K. in 2016, and Celsius, a U.S. brand that has been around since 2005, and which both sell energy drinks targeting a more health-conscious consumer.
The new wave of energy drinks
While it's not easy for small brands to compete with the energy drink giants, these new offerings do appear to be attracting new consumers to the category. According to NielsenIQ, U.S. energy-drink sales were up 17% year-on-year in August, and up 56% from the same month in 2019.
Salinas says that while the idea for Somi was originally to provide an alternative for health-concerned energy drink consumers, because of its health messaging it is also attracting people to the category who would never have picked up a Red Bull in the first place.
"People say 'we're in the third wave of coffee'," she says, referring to Somi and its fellow better-for-you energy drink players. "It's the same with energy drinks." According to the Wall Street Journal, Celsius has seen a huge boost to its business in the past year, despite having been around for 17 years, with sales increasing from $93 million to $269 million in the first six months of this year, compared to the last six months of 2021.
While these newer brands may focus on removing certain sweeteners and artificial ingredients, some do still contain a fair amount of caffeine. Energy drinks from Celsius and 3D (launched by YouTuber Christian Guzman in 2017) contain 200mg of caffeine per can, while Somi and Juvee come in at slightly less, with 170mg and 127.5mg of caffeine per can, respectively. The average cup of coffee contains around 80mg.
Still — Salinas says customers that concentrated energy kick is why consumers hand over their money. And it's harder to deliver that without resorting to tastebud overloading flavors in the way that Red Bull and Monster do. "Caffeine is very bitter, so the more you have, the more sweetener you need to offset or cover that flavor," she explains. She says that Somi started its product development process with a 200mg caffeine recipe, but had to reduce the amount of matcha as it was too bitter.
While Somi does sell an original matcha flavor, Salinas says that the yuzu lemonade version is far more popular among consumers. "People don't want matcha per se — they want the health benefits of matcha," she says.