I've been testing Dose Wellness Shots, here are my thoughts
The following review reflects the independent, honest experience of a Thingtester. Thingtesting does not cherrypick, edit, or influence reviews. Our mission is to make online shopping more transparent.
Thingtesting is a community of people helping each other shop better, not more - join us by signing up and writing your first review today.
All products featured on Thingtesting are independently recommended by our writers. When you buy something through our retail links, we may earn an affiliate commission.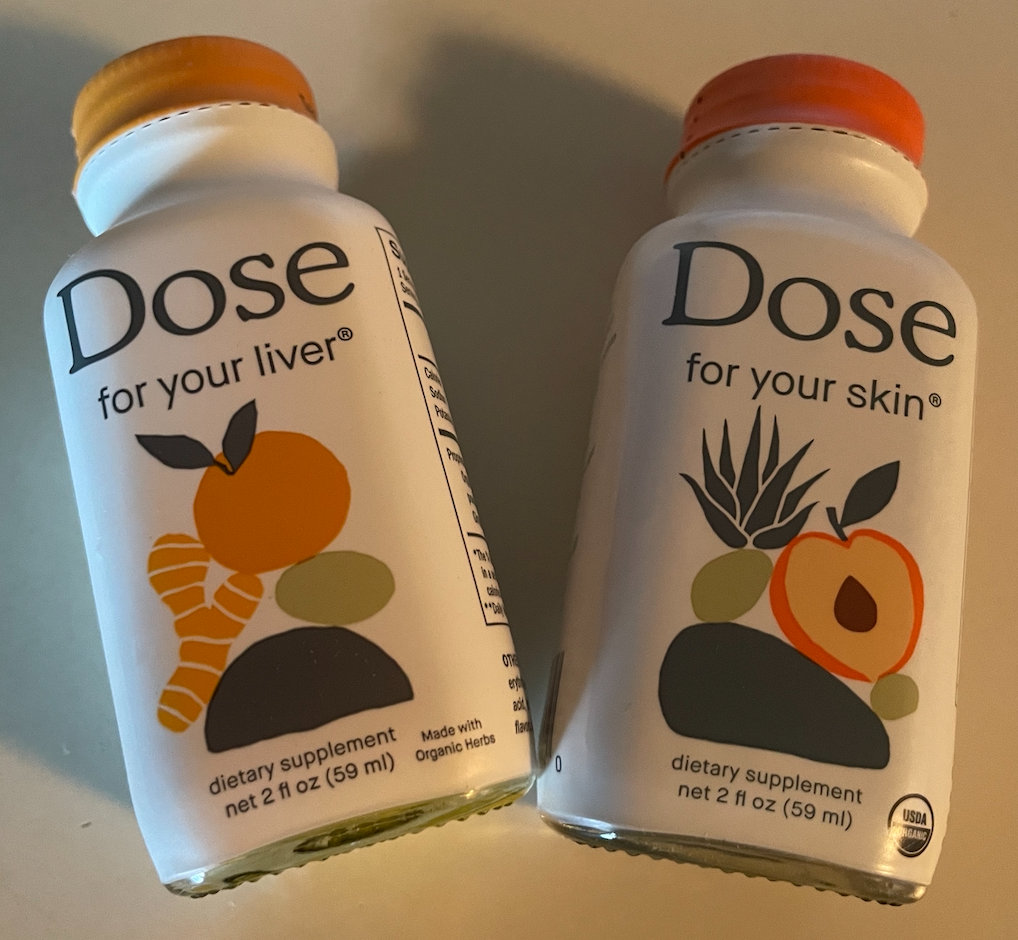 Overall rating out of 5:
4
How much did your products cost?
$76.50 for 24 bottles so that works out to $3.18 per 2 fluid-ounce bottle.
Which Dose products did you buy?
Dose for your Liver and Dose for your Skin.
Why did you buy these products? What were your goals?
I'm always looking to improve my overall health and when I saw Dose online, I was intrigued with the idea of taking an orange juice-tasting shot that could lead to healthier skin or a healthier liver.
Where did you buy your products? Did you look to purchase from any other sites - if yes, which ones?
I went online so that I could read all of the ingredients as well as subscription options.
Would you recommend Dose to a friend, yes or no? Why?
Yes, I would but I would also recommend that my friend speak to their doctor about if the ingredients, such as ginger and milk thistle, are safe for them and don't interact with any medications they may be taking. After all, ginger, for example, is a natural blood thinner and may need to be taken in limited doses for some people. However, if my friend was healthy and had no concerns, then yes, I would recommend trying Dose for Liver because ginger, turmeric, and dandelion are great for digestion and detoxification.
When did you purchase your Dose products?
I made my first order on February 26, 2023.
Did you read any Dose reviews before making your purchase?
Yes, definitely. I always read the reviews first and, in fact, I always start with the lowest reviews first and then make my way up to the five-star reviews for two reasons. First, I want to make sure whatever I buy is safe. Secondly, I want to protect myself financially from scam sites and those who take money and don't provide the product.
Any personal history with or reason for purchasing supplements?
I have very low iron and I often have vitamin deficiency, in part from being vegetarian so my doctors have suggested I take vitamins and iron supplements.
Have you used other supplements or wellness shots before?
I take vitamins, usually in vegan gummy or liquid form. I also use protein shakes on an intermittent basis. However, I never tried wellness shots before because I was looking for something like Dose with all-natural ingredients.
Did any social media influencers or platforms, such as TikTok, contribute to your purchase?
No, although I did first see Dose in ads on Facebook. Eventually, after seeing the ads, I decided to go to their website and read their story and reviews for myself.
Any affiliation with Dose - discount codes, free products, etc?
No, I'm only a customer.
Share your experience. What did you think? Does the Dose for Liver product taste like orange juice?
Dose for Liver definitely tastes like orange juice. I don't drink a lot of sugar so it's a nice little two-ounce sweet treat in every bottle. Dose for Skin, on the other hand, is more of an acquired taste, at least for me. Dose for Skin tastes like aloe, in my opinion, which is not a flavor/texture I particularly love.
Dose's website makes shopping the products and seeing the ingredients very easy. It also explains what each ingredient is for and includes scientific references for each ingredient. In addition, the website includes a section on a clinical study.
Would you buy these Dose products again given what you know now? Would you purchase the subscription?
I did start out with it on a subscription but I didn't keep up with the subscription, in the end, because of the cost and how much space it takes to store 48 tiny bottles (when I buy both Dose for Liver and Dose for Skin). Instead, I went back to (another company's) vegan gummies.
Did the wellness shots meet or exceed your expectations? If not, why so?
I definitely felt energized after drinking Dose for Liver, however, there were no changes in my lab work and I didn't see any major changes in my skin after drinking Dose for Skin.
Share your feedback. What would you change or what could use improvement?
I understand Dose's commitment to not using plastic containers, however, the glass/ceramic bottles made me uncomfortable. When delivered, the package contains guidance to pour the wellness shot into another glass or cup before drinking it, in order to ensure there is no glass or ceramic in the drink. If that is a serious enough concern, then another receptacle should be used in place of something so breakable. This is actually misleading because many of the ads show people drinking from the little bottles. When I brought them to work, I had to bring small clear cups to pour my shots into before drinking them.
Is this product similar to other supplements you've bought before? Is one better / higher quality than the other in your opinion?
To me, Dose is a higher quality than many of the other vitamin products I've tried in the past but I didn't keep up with them long-term.
Dose wellness shots: Do they work? Are they worth it?
Dose wellness shots are full of vitamins and flavor, however, they're on the small side for the price. I tried the Liver and Skin options and while they are delicious, I only used them for one month and I didn't see any results either positive or negative.