What's the thing with sustainable sneakers?
Brands large and small are launching their own take on sustainable sneakers. What's behind all these new launches – and are they really better for the planet?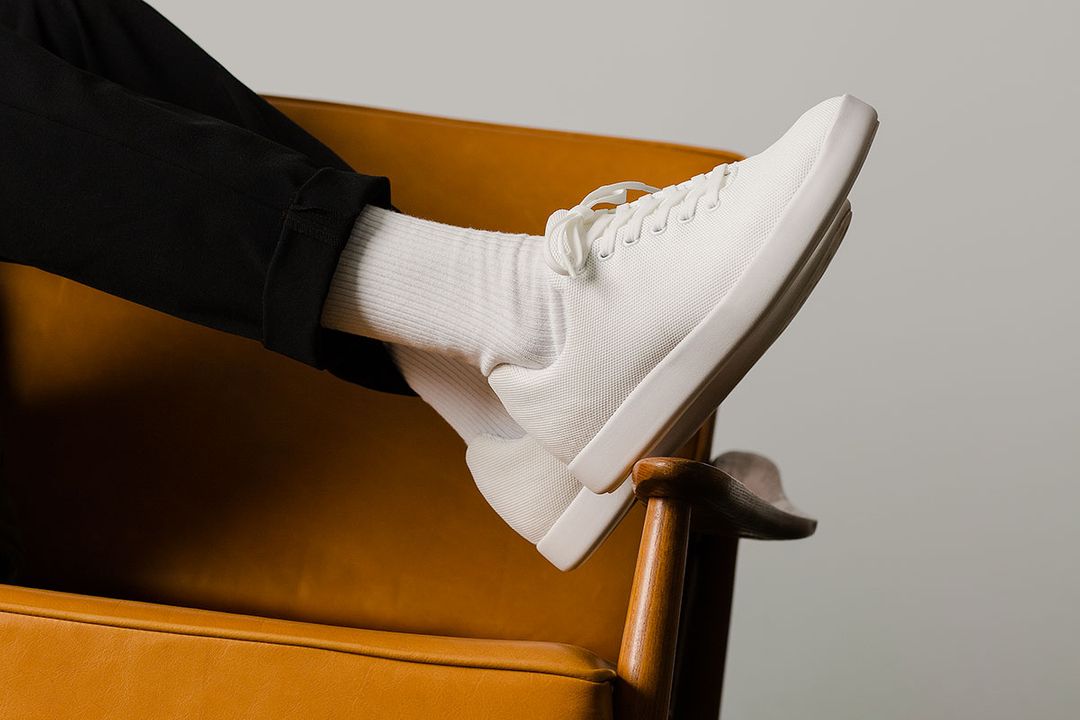 What do Amy Adams, Kristen Stewart and Cindy Crawford have in common? They've all been papped wearing the same pair of grey Allbirds sneakers.
The four-year-old company was one of the first to build a brand around the idea that stylish sneakers could also be sustainable – without compromise. In its first two years, it sold one million pairs of its $95 wool shoes, proving that consumers had the appetite to consider their carbon footprints in this category. Today, Allbirds is valued at roughly $1.7bn and is competing alongside a number of other rapidly growing independent consumer brands, including Atoms, Greats and Saye, and increasing interest from giants such Nike, Reebok and Adidas.
What's behind the boom in sustainable sneakers?
Put simply: sneakers, the most enduringly popular style of shoe, are terrible for the environment. The amount of energy used to make a typical pair of running shoes is equivalent to leaving a 100-watt light bulb on for an entire week, according to a 2013 MIT study. A big problem is the number of components they're made up of – for sneakers, 30 individual bits and pieces can be required, each of which generates its own supply chain where materials are sourced, shipped and manufactured.
The sustainable sneaker set is tackling this issue in various ways. Allbirds' USP is its materials – its shoes are made from natural resources such as merino wool, sugarcane or eucalyptus tree pulp – while others, like Atoms, tout longevity as the solution to sustainability. Swiss company On has developed shoes it says are fully recyclable, which can be returned and turned into a new pair, and Kengos has created a design which uses as few as five components. Meanwhile, Nike has endorsed Resku, a shoe refurbishment company that specialises in cleaning up and reselling returned and deadstock shoes purchased from the brand.
Sneakers and selfhood
While consumers have for a long time expressed a desire to make more sustainable purchases, they are often unwilling to do so if it requires making a compromise on price, style or quality. Michael Sadowski, a sustainability expert and former vice president at think tank SustainAbility, says this has been a key takeaway from his 20 years in the business. "Consumers are not going to drive the sustainability agenda, despite the surveys you may see. If that were the case, we'd be in a much different situation from a planetary perspective today," he says. "[Brands like Allbirds], I applaud them, they're doing great work and I want brands like that to grow. Certainly sustainability is a core part of their story, but I don't know if that's the main driver for consumers, I think it's comfort, distinction and the iconoclastic nature of that shoe."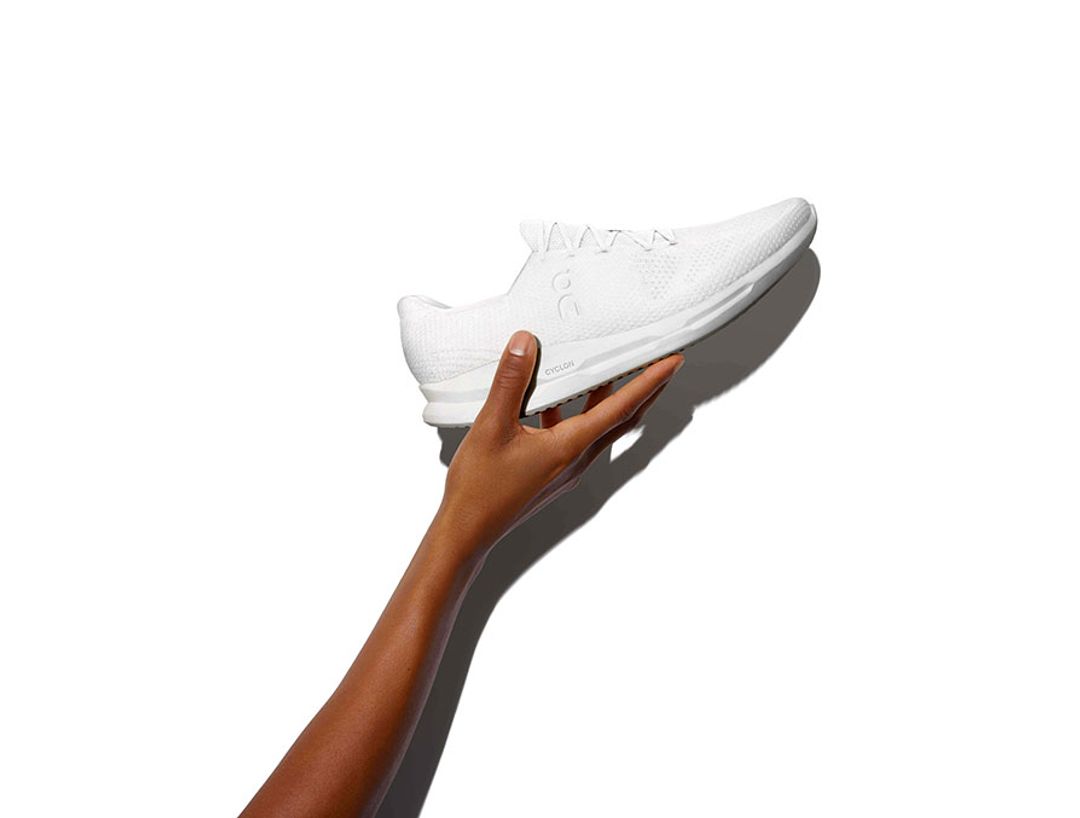 Indeed, it can't be denied that these businesses are leveraging the cultural cache that sneakers have accrued through years of association with sports stars and alternative subcultures for good. When Adidas gifts a recycled shoe to a sports team – or indeed, when a celebrity is spotted wearing an Allbirds shoe – it means something. "By putting that [shoe] on Manchester United or Real Madrid, you have certain consumer groups who weren't as switched on to sustainability suddenly seeing their idols scoring goals [in a shoe] that's made of ocean plastic, and suddenly the perception of recycled as cheap turns on its head," Connor Hill, a circularity consultant who was previously Adidas's global sustainability and circularity manager, says. "Recycled [then] means quality innovation, amazing storytelling and purpose."
What does sustainable even mean?
Across the board, brands are putting sustainability claims front and centre. The problem for consumers is information overload – the variety and veracity of such claims can be confusing at best and, at worst, marketing trickery. When launching Atoms, founder Sidra Qasim said this was one of the trickier aspects of designing a product that actually made a difference. "When we were doing research on materials, we found there are a lot of companies who are using sustainable materials, [but their shoes] don't last long enough – for like six months and then you have to buy again," she explains. "When your product is not durable, you are not truly sustainable."
Difficulties can emerge when brands move from a beta-testing scenario – where maybe just a few dozen people are trying out a product – to producing products at scale. In 2017, when Allbirds was just a year old, a number of Silicon Valley fans claimed they were having to replace the shoes every two to three months – not good for a company that's selling on sustainability claims, although the company has since made improvements.
Connor argues, however, that the quest for a sneaker that is wholly and perfectly sustainable from the get-go is one that's set up to fail – and that instead, consumers should be on the lookout for brands that are willing to iterate, and that are honest and open about the improvements they are making. He outlines three "holy grail" models that consumers and investors should be looking out for. One is the "old-school model" where brands design products to last as long as possible – the approach Atoms and Casca take – or even offer a repair service, such as Vivobarefoot's Revivo. "Then you have shoes that are 100% recyclable and can be made into another pair of the same shoe," Connor says, which avoid using traditional glues and reduce the number of materials used to a minimum, like Thousand Fell's "full circle" sneakers or Adidas's Futurecraft.Loop running shoe. Finally, there's "the biological cycle – what can you do so that when someone's finished with them, so they can biodegrade?" In June 2019, Canadian brand Native launched the 'Plant Shoe', made from 100% biodegradable materials and which can be composted at home.
While all of these scenarios could be considered gold standard from a sustainability point of view, Connor points out that all are still in development, and no brand has achieved any of these visions in full – yet. "You can't go to the moon on day one."