The art of buying artwork online
Online platforms are closing the generational gap when it comes to buying original artwork for our homes.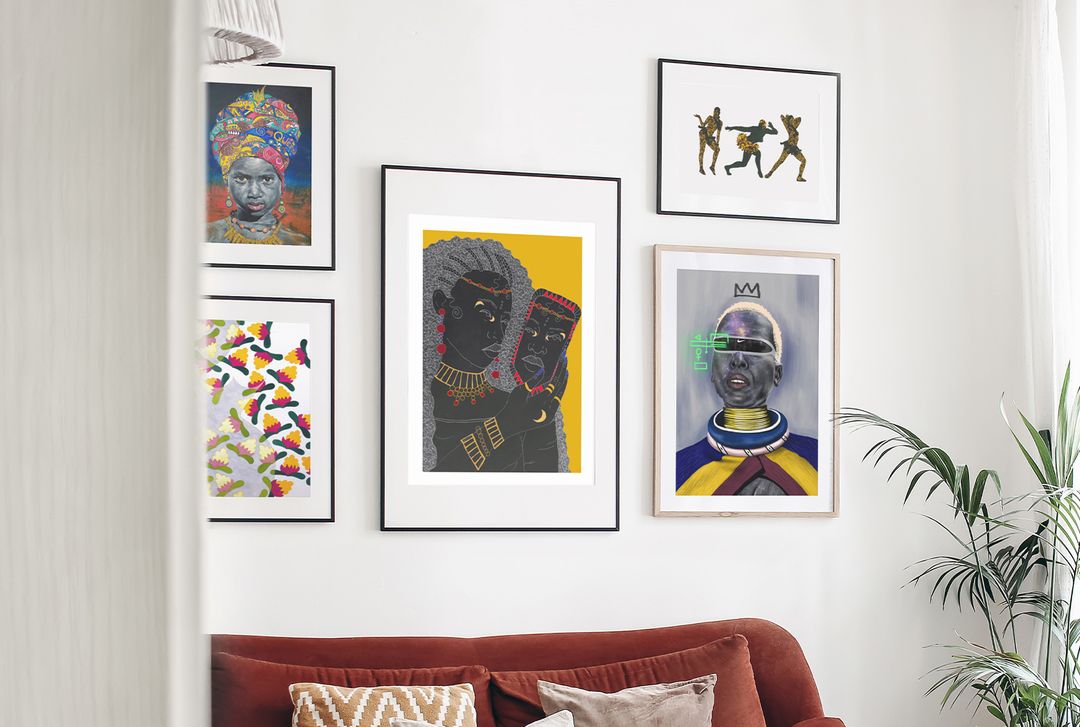 In 2020, online art sales reached a record high. According to Art Basel and UBS's annual report, $12.4 billion-worth of art and antiques sales happened online last year, accounting for a quarter of the market's total value.
This uptick has been partly driven by necessity – the pandemic made gallery visits difficult for much of the year, while art fairs were put on hold across the world. But the numbers also reflect a larger shift among the younger members of the art collecting world. Millennials are now among this sector's biggest spenders, with high net-worth Gen Y'ers dropping an average $1 million on art in 2020 (roughly six times the spending of their Boomer parents).
There are plenty of sales at the more affordable end of the market, too. According to insurance company Hiscox, 58% of artwork sold online during the pandemic went for $5,000 or under, and 36% for less than $1,000.
"We have a large percentage of millennials who are purchasing prints," Swakara Atwell-Bennett, the founder of art platform BetterShared says. "A limited-edition print is still special, and it's a much more affordable way for [millennials] to start purchasing art. They're an in-between before you jump up to buying a bigger piece."
What do millennial art buyers want?
Online platforms like BetterShared – which launched in 2016 and focuses on emerging artists from Africa – are rethinking how and where art sales happen. In so doing, they're also opening up the market for millennial buyers.
These modern galleries share a similar playbook: sell curated selections of art at fixed prices and provide educational content. This information not only reveals more about the artists themselves and the rules of art collecting, but also instructs buyers on how to hang their newly acquired pieces at home. BetterShared and Tappan, founded by Jordan Klein and Chelsea Neman Nassib in 2012, both offer text message "concierge" services to advise on where a piece might fit in the home, or recommend artworks to suit certain tastes. The logos of "buy now, pay later" providers like Klarna and Affirm are also common features on these websites.
And while the overall barrier to purchase is lower, the scarcity mindset that drives the art world remains. Canopy Collections releases seasonal curations that focus on different themes; in Autumn 2020 it was "Living Well is the Best Revenge," while the current collection focuses on the home as a refuge, titled "Do Not Swear by the Moon." In 2017, Dutch platform Avant Arte sold 140 prints by Icelandic artist Katrin Fridriks at €900 a pop – since then, it has committed to selling specially-created, limited edition collections. The experience is far more MSCHF than it is Sotheby's auction house.
A fairer way to sell art
The shift to online is a win for emerging artists as well.
"They're looking to reach a wider audience, and that's what our platform does [for them]," Atwell-Bennett explains. "It allows them to sell at a global scale and for their work to be seen across the world rather than being stuck with one gallery."
The artists also typically get a better cut for their work – while a gallery might take around 50% of the work's value, BetterShared takes just a 25% fee. Grafiti, meanwhile, pays its artists a 10% royalty for every canvas print it sells, which it says is higher than the industry standard. It also doesn't restrict artists from selling their work elsewhere.
When Gen Z'ers start buying art, this side of the equation will become even more important, Atwell-Bennett says. "They're going to be interested in the process and the ethics behind it," she explains. "Gen X are interested in discounts, and millennials are the aesthetic era. Then you've got Gen Z, who are very interested in the environment and how things are impacting how [we] live."
Thingtesting is a database of internet-born brands. We're building the un-sponsored corner of the internet where consumers can come together to talk honestly about new things. Read more about Thingtesting.
Create a free account so you can make your own lists, whether that's because you love them or because you want to try them.
Feedback? Yes, please.