The 0.5%: Alcohol-free beer gets an upgrade
Booze-free beer has long suffered from a bad reputation. But zero alcohol doesn't have to mean zero taste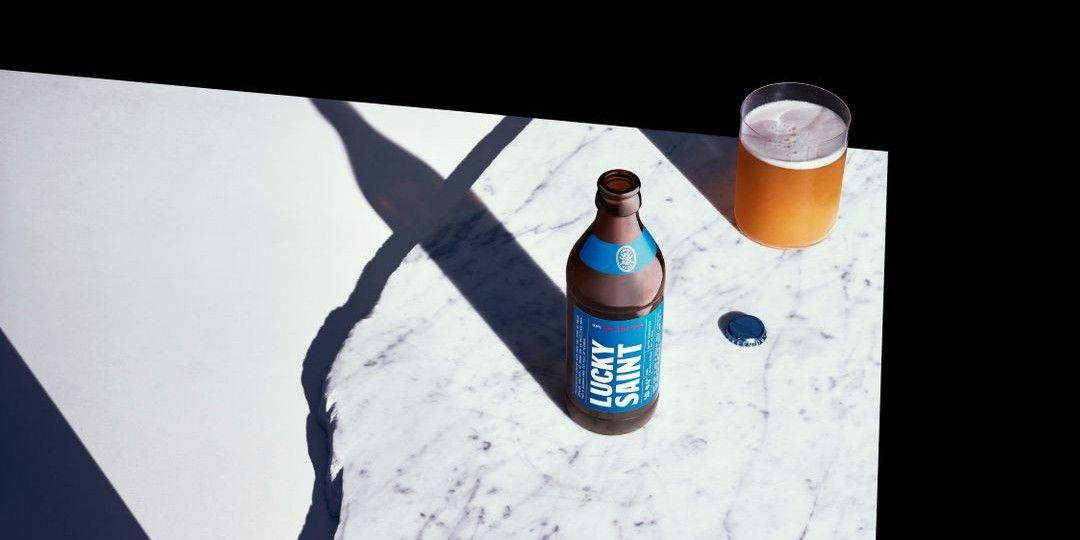 Lucky Saint, the UK's largest independent alcohol-free beer brand, can boast many firsts.
It was the first non-alcoholic beer to be admitted into the British Beer & Pub Association – a century-old organising representing a largely traditional industry – and was also the first alcohol-free beer to be served on tap in UK pubs. This week, Lucky Saint closed a £3.5m fundraising deal, and it plans to use the cash to go international.
In 2019, alcohol-free beer sales were up 39% according to Nielsen, a rate of growth that held steady in 2020 despite the pandemic.
It's still a small market, accounting for less than half a percent of alcohol retail sales in the US, but a new crop of brands – from Athletic Brewing and Heaps Normal in the US, to Days in Scotland – are banking on the idea that if their products actually taste decent, drinkers will dive in.
How is it made?
Alcohol-free beer's reputation as watery and tasteless is down, in part, to how the drinks are usually made. Traditionally, to make alcohol-free beer a brewery would either stop the beer from fermenting to the point where it becomes alcoholic, or to brew as usual and boil the alcohol off at the end. Both methods have their downsides, with the former adding unwanted sweetness and the latter compromising the taste of the hops.
The new crop of alcohol-free beer brands have found ways to iterate on this process, still removing the alcohol but without ruining the taste. Athletic Brewing uses a proprietary method that involves tinkering with acid and temperature levels throughout the brewing process, while Lucky Saint is brewed like a regular pilsner, before going through a process called "vacuum distillation", where the alcohol is removed under reduced pressure (a process that took Lucky Saint two years to perfect).
Other breweries use so-called "lazy" yeasts, which don't produce alcohol when they ferment, while Freestar says it skips yeast altogether, blending hops, barley and water together instead of brewing it (the idea being that it uses less energy to make).
Why is it so expensive?
The price point of alcohol-free beers can be confusing – or even off-putting – to customers who assume it should be priced more similarly to a soda.
Heaps Normal sells packs of 24 cans for $80, while Athletic Brewing charges $49.99 for its 24-beer variety case.
There are two simple reasons for this. First, because alcohol-free beer is often brewed like regular beer (with Freestar being the notable exception), it's not actually cheaper to make than the full-alcohol version. Second, because these brands are producing beer alternatives that taste closer than ever before to the real thing, they want it to be thought of as the real thing. Price can help to encourage that association.
Will the category be able to maintain these price points? Only time – and taste testing – will tell.
Thingtesting is a database of internet-born brands. We're building the un-sponsored corner of the internet where consumers can come together to talk honestly about new things. Read more about Thingtesting here.
Create a free account so you can make your own lists, whether that's because you love them or because you want to try them.
Feedback? Yes, please.