Each week, we check in with a different member of Thingtesting's community to ask what brands they've spotted, what they're testing, and take a peek into their recent reviews.
This weeks feature is Natalie Bustamante. Natalie is the founder of Vital Tonics, a company working to make nano-emulsified CBD oil a part of every wellness routine, as well as an authority in the holistic health and wellness space. Read on to discover the brands she's spotted and everything else in her current rotation.
Know a tastemaker who loves new things? Submit their name here.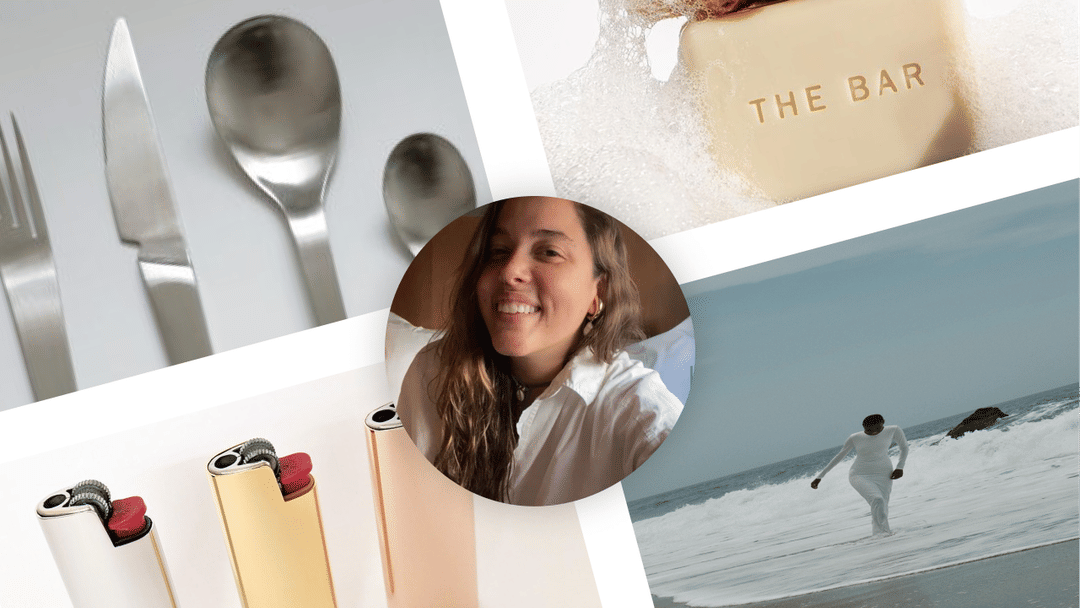 Hi Natalie, please introduce yourself.
Natalie here, founder of Vital Tonics and wellness aficionado. I spent most of my life sick and in doctor's offices until I took back control by weaning off all my prescription medications and healing myself through food and plant medicine. I started my company after realizing that all of us are suffering from chronic inflammation and most doctors treat symptoms and not the root cause. Now I spend my days creating products that help people feel better from the inside out.
What are some brands you've recently spotted?
Highlands. Someone gifted me their ceramic Décolleté Tray and it's one of my most prized possessions. Designed to look like a naked woman's décolletage, this rolling tray is a show stopper and a conversation starter. This is the first time I have admitted where it's from because I originally intended to take that information to the grave.
SOS Chefs. Started in 1996 and catering to chefs and home cooks alike, SOS Chefs focuses on homemade spice blends and unique vinegars that will elevate any meal. Walk into the store and you'll have the owner, who makes the spice blends and vinegars, guide you around with a spoon in hand so you can sample her creations. It's one of New York's best kept secrets but now they offer shipping on all of their products.
Maygel Coronel is a Colombian brand that blew up for their swimwear but has recently expanded into clothing and accessories. Everyone back home raved about this magical swimwear that was "one size fits all." The swimsuits are made from a special material that feels like shapewear but is soft and breathable. Each piece can be worn day or night and they're true works of art. Every time I wear one of their creations I get stopped and asked where it's from.
Tsubota Pearl. This Japanese accessories brand makes my all time favorite lighters. I have their cow print design and it's the only lighter I make sure no one pockets "by mistake."
Encrudo. Mexican ceramicists are in a league of their own. Encrudo is my favorite ceramics studio and one look at their work is enough to understand why. All of their pieces honor the land and the materials nature has provided to allow them to create their works of art.
The Dinner Club's pieces might be minimalist in their design but I can promise they'll induce maximum joy. I still can't believe their pieces are so well priced and am currently anxiously waiting for my Boxy Jug to arrive.
What's a brand you've recently tested?
What are the top three misconceptions you hear about CBD and can you debunk them?
#1- That CBD gets you high.
CBD is an incredible anti-inflammatory agent. It helps support your endocannabinoid system so it can do all of its roles, like regulating inflammation and even your hormones, at an optimal level. People still connect CBD to marijuana but none of our products contain any THC and we only extract from hemp plants. When you remove internal inflammation you'll see improved digestion and the disappearance of aches and pains which leads to better quality sleep. Removing gut inflammation also means more serotonin, the happy hormone, but also clearer skin and even an improved mood. CBD will help you chill out, but will never get you high.
#2- That CBD is "snake oil"
Most brands on the market are oil based. CBD is absorbed in your bloodstream which is 92% water. Water and oil we know do not mix. The Tonic, our revolutionary recipe, is both water-soluble and nano emulsified. Our molecules are so small they bypass digestion entirely which leads to relief in a few minutes. Because it's also water soluble, your bloodstream is actually absorbing every dose you take. Most of our customers tell us they tried other brands and didn't feel anything until they tried ours. This is why CBD has been called snake oil but we know that our delivery process is just ahead of the game and we're starting to see nano emulsification and water soluble vitamins popping up everywhere.
#3- That CBD makes you drowsy.
We actually had someone refer to The Tonic as organic adderall once, but without all of the horrible side effects. CBD does help support sleep, but not in the way people think. If anything, it will help you focus and be more productive. Studies have shown that CBD helps us manage stress and anxiety, two things that can affect the trajectory of our day but also the quality of sleep we're getting. Imagine how much you could get done, or what a restful night you could have, if you quieted the little voice in your head that questions absolutely everything?
What else is in your current rotation?
I started wheel throwing a few months ago and can't wait for my next workshop. It allows me to be creative, work with my hands and to stay away from my phone for a few hours every week. I'm also volunteering more than usual but for a semi selfish reason. Whenever I feel overwhelmed with running a company I opt for a volunteer day with a local organization. It always brings me back to my core mission of helping people while reminding me to be thankful for everything I already have in my life. I operate from a glass half full perspective the weeks after I volunteer. I mostly hangout at Flour & Weirdoughs or Paradis Books & Bread in Miami and will stuff myself with bread and olives when volunteering doesn't get the job done.
Who are your dream dinner party guests?
All of my favorite conversations have happened over a dinner table. My dream dinner guests would be Michael Pollan, Atef Boulaabi and The Barefoot Contessa. Michael Pollan has blown up since his Netflix documentary, but I've been reading his books for years. He was my first introduction into psychedelics and one of my heroes. He also made me realize I am addicted to coffee but we ignore that revelation. Atef Boulaabi is the founder of SOS Chefs and a queen. I met her on a scorching summer day in NYC when she handed me homemade rose water, making sure to highlight that it would make me smell good everywhere from the inside out. The Barefoot Contessa is the ultimate host. Her recipes were some of the first I tried when I started cooking. She always sources from her garden and prepares a meal with a drink, or two, in hand.
Spotted on Natalie's kitchen counter...