Meet Jacob Winter and Franki Peroff
Each week, we check in with a different member of Thingtesting's community to ask what brands they've spotted, what they're testing, and take a peek into their recent reviews.
This week's dual feature is Jacob Winter and Franki Peroff. Jacob and Franki are the creators behind Mush Studios, a creative firm designing imaginative rugs and pillows. Read on to discover the brands Franki and Jacob have spotted and everything else in their current rotation.
Know a tastemaker who loves new things? Submit their name here.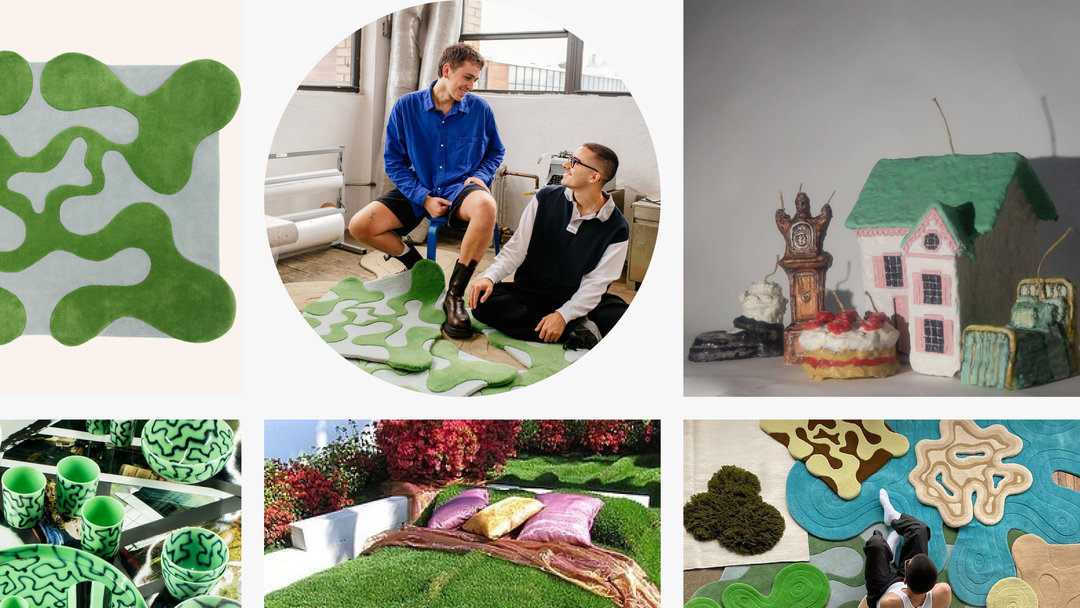 Hi Franki and Jacob, please introduce yourself.
Hey, we are Jacob Winter and Franki Peroff. We are both designers and entrepreneurs who founded our company, Mush Studios, on Long Island, New York in 2020. Starting off as a creative and therapeutic hobby, Mush has quickly become a brand that defies the rules of normalcy and tradition. From amorphous rugs to shaggy pillows, we strive to take the ordinary and infuse it with otherworldly comfort and energy.
What are some brands you've recently spotted?
Janie Korn. The best personality item to get for your home.
Frisbee Ceramics. Handmade porcelain goods in Brussels that showcase color and energy perfectly.
Broccoli Magazine highlights the evolving relationship between humans and cannabis. Covering topics that range from cannabis policy to cannabis-infused self-care and home goods.
What's a brand you've recently tested?
What are both of your backgrounds in? How did you get into making rugs and launching Mush Studios?
Jacob has an extensive educational background in marketing and has also spent time in both the fashion and beauty industries. Franki comes from years of working in the fashion industry with an educational background in psychology. We began making rugs during quarantine in 2020 as a way to creatively connect and express ourselves. Jacob stumbled upon a tufting gun online and spent weeks trying to find one for sale on the internet and eventually found one. After documenting and showcasing the process of rug making from start to finish in 15 second videos for TikTok, we realized there was an opportunity to put our creative abilities together and create something new and exciting.
We decided to start a rug brand and launched "Mush Studios" in November of 2020. This launch prioritized ourselves as designers, creatives and most importantly entrepreneurs. We not only had to be creative but we had to approach everything from a business and longevity perspective. This change encouraged us to work towards many long term goals which has allowed us to continue to do what we do to this present day.
What else is in your current rotation?
Franki's current rotation includes making homemade salad dressing, watching the Real Housewives (all of them), and collecting mineral-included crystals. Jacob's current rotation is reading autobiographies of current and old politicians and arguing with Franki about who is the best dressed housewife (all of them).
Who are some spotters in your community that you look to for new things?
Franki looks to his friends, Mary and Jonathan, to introduce him to new people, places and experiences in his community. Jacob looks to his friends, Gina and David, to explore new restaurants and events in the city.
Spotted in Franki and Jacob's living room...