Each week, we check in with a different member of Thingtesting's community to ask what brands they've spotted, what they're testing, and take a peek into their recent reviews.
This week's feature is Edy Massih. Edy is the chef and owner of Edy's Grocer. Read on to discover the brands he's spotted and everything else in his current rotation.
Know a tastemaker who loves new things? Submit their name here.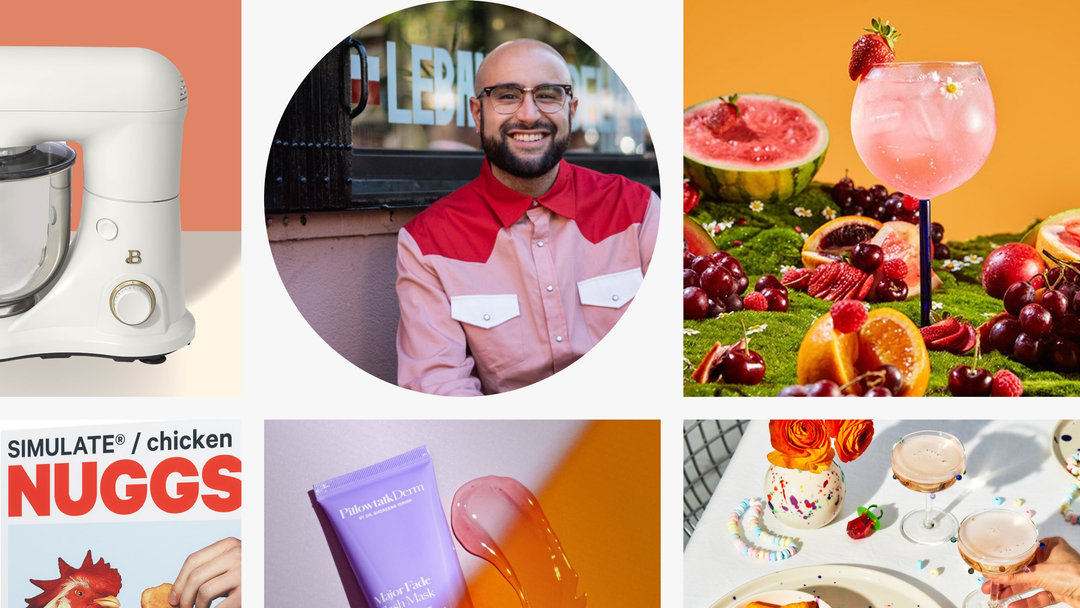 Hi
Edy
, please introduce yourself:
I'm the Chef and Owner of Edy's Grocer in Greenpoint, Brooklyn, a deli and grocer serving Middle Eastern dishes and stocked with Middle Eastern ingredients and pantry items. I was born and raised in the Northern region of Lebanon, and immigrated to the U.S. at a young age, quickly developing an obsession with American culture (mostly just Oprah) and food. My food is directly influenced by my background and upbringing, but I always add my own spin, or as I like to say, Keep it Zesty.
What are some brands you've recently spotted?
Body Vodka. I love a martini. Whether it's at the bar at Bernie's (my go-to Greenpoint spot after a busy day at the Grocer) or at home, dirty - but not too dirty - vodka with olives is the way I like it. Body Vodka truly has good body; the perfect base for my martini. It's my new Tito's.
Pillow Talk Derm. Any opportunity to support a fellow Lebanese-owned business! Dr. Shereene used her years of Dermatology experience to create the perfect three step routine that I have fallen in love with. I can't stop raving about the packaging, the branding, and of course the results of the Major Fade Solution System. I've never followed or stuck to a beauty routine other than a little face scrub here and a little night cream there, but this has made me into a skincare person.
Beautiful. I might be just a little biased because of how much I love Drew, but the Beautiful line is everything. I recently bought a house in Upstate New York (the Farmhouse) and I've been getting my kitchen ready with a ton of Beautiful appliances and cooking tools. I love them all. They are so cute and cheerful, high quality, and totally affordable. The best part is the color - the blueberry blue matches the paint at the Farmhouse so perfectly. And they've got it all - any kitchen appliance you can think of, knives, even pots and pans that are oven safe, which is huge.
Felt + Fat. A brand I fell in love with many moons ago, and then stopped seeing as much of. I recently wrapped up the photo shoot for my very first cookbook and my prop stylist received a few Felt + Fat platters. I was so excited to see them again, and to be able to use their beautiful ceramics in my shoot. Bold, colorful and unique.
What's a brand you've recently tested?
What else is in your current rotation?
I've been taking time for myself a lot recently. I've been staying off of social media and working on my book, staying at the Farmhouse in the Hudson Valley which means breathing fresh air and enjoying nature. A very needed break from everything life throws at you. New York ain't easy. 
Focusing on myself with my skincare routine and daily stretching - I'm so happy that I have matured enough to pay attention to my body and to start taking care of it after neglecting it for so long.
Who are some spotters in your community that you look to for new things?
I am a big fan of @greenpointers and always look forward to their emails and Instagram posts. It's the best way to discover and learn about my neighborhood and community. I tend to live, work, and hang in Greenpoint, so it's really my way to stay up to date with any new spots and everything happening.
When creating new offerings for Edy's Grocer, where do you look for inspiration?
Traveling back to Lebanon once a year is the biggest way I stay inspired; it always gets me thinking of new ways to innovate and how I can put my own Zesty spin on classics. Of course dining out in New York is always inspirational, but nothing like visiting home. This past summer I had Shrimp Fatteh for the first time, and I was mind blown. It's my new favorite thing to make, it might even have made it into the cookbook… shhh
What is your favorite food trend happening now?
I know I'm super late to this "trend," but I recently discovered Trader Joe's. It has helped me so much with cooking at home for myself. After a long day at the Grocer or in the catering kitchen, it's so nice to be able to come home and quickly throw something in the airfryer instead of ordering take out. 
Oh and the stoner in me has been loving all the different plant-based chicken nuggets/cauliflower nuggets, with some Spicy Tahini sauce from the Grocer.
Spotted on my kitchen counter: