Baby skincare products get the clean beauty treatment
Today's parents are more savvy about "clean" beauty products. A handful of brands think this will translate to the things they buy for their babies, too.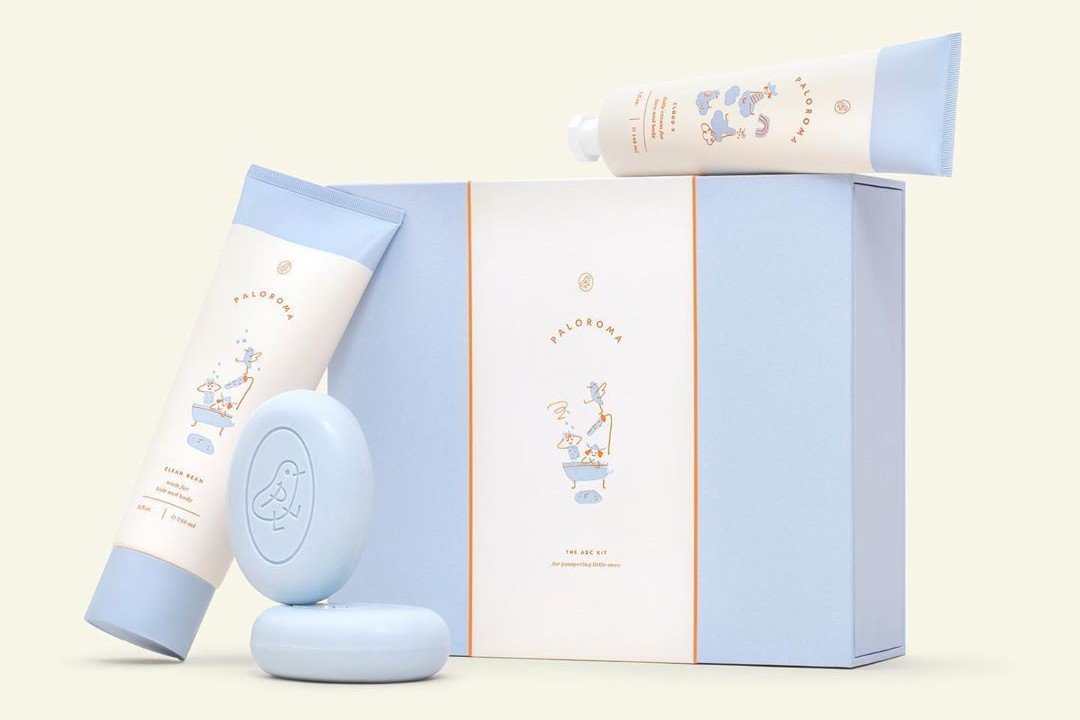 The jury may still be out on whether or not "clean" beauty products (those free of ingredients deemed toxic or unnatural) are actually better for us, but this hasn't slowed down the category.
And as a result of how popular these products are among today's consumers — in 2019, sales of beauty products labeled "clean" were up 39% — brands are now wondering if today's parents would like something similar for their kids.
In 2020, former Architectural Digest style director Jane Keltner de Valle launched Paloroma, a gentle baby skincare line that was originally developed in response to Keltner de Valle's own struggle to find products to soothe her son's eczema. Bubz Baby Co, which launched a year earlier, sells at-home soap making kits that parents can make using their own breast milk. This year, Proudly, which sells gentle skincare products for babies with deeper skin tones, launched. These brands and others like them say their products will protect, repair and hydrate children's skin in as gentle and natural a way as possible.
Sensing the opportunity, even celebrities and corporates are getting in on the action. In September, Kylie Jenner launched her own line of baby care products — Kylie Baby — which features "clean, vegan and conscious" bubble baths, shampoos and moisturizers. U.K. consumer goods giant Reckitt, meanwhile, has launched Little Yawn Collective, a brand that sells naturally sleep-inducing products like shampoos and pillow sprays, and that look just like something from an independent direct-to-consumer brand.
According to Euromonitor, sales of haircare products for children and babies were up almost 9% year-on-year in 2020, to $186 million. Skincare products for babies, meanwhile, brought in $348.2 million that year.
"Our customers are modern, educated, conscious parents who see the brands they engage with as an extension of themselves," says Keltner de Valle. "They approach parenting as a lifestyle."
Appealing to the modern parent
As such, today's parents want to buy products for their babies that fit with the things they might buy for themselves. These are parents who forensically examine the ingredient labels on the food they buy and who are looking for brands to place trust in, not just transact with. "Parents and consumers in general are so much more educated, and yet the market [for baby skincare products] is lagging behind," Keltner de Valle adds.
The term "clean" is one that can mean different things to different people, but when it comes to baby skincare, brands tend to err on the side of caution in order to win parents over. Paloroma's skincare products are formulated with natural ingredients, but also boast the fact they don't contain any fragrances, which can be irritating to baby's skin.
"We consider 'clean' to be safety tested and using natural and naturally derived ingredients as much as possible," says Thai-Anh Hoang, the founder of skincare brand EmBeba, adding that the brand also tries to pare back the ingredients list on its products to what is essential. "Everything we make is geared towards the most sensitive skin."
Hoang says it took two years to develop the brand's flagship diaper balm, which launched in January 2021. Her brand was also developed in response to struggles Hoang had experienced with her own children, who had hypersensitive skin and experienced rashes and eczema. She estimates that the market for baby products is currently growing between 5 and 10% per year, and that a significant number of parents are specifically on the lookout for brands with better quality ingredients.
Still, it is not an easy product category to compete in, with the market dominated by large players like Johnson & Johnson and Beiersdorf (which owns brands such as Nivea and Aquaphor), that can sell products at lower prices thanks to their scale.
A 20oz bottle of Johnson's Baby Oil would set you back less than $6 at Target. By comparison, Paloroma's 5oz Cloud 9 daily cream costs $21, and Parasol's Soft+Natural lotion comes in at $30 for two 8oz bottles.
"Because the category has been historically low priced, all the brands including ours that are coming out...get caught in this conundrum of: Do you shave down your ingredients? Or do you take a slimmer margin?," says Hoang. A 48g stick of EmBeba's diaper balm costs $14.99.
The hope is that customers who are keen to move away from the brands their parents favored — that they see as old fashioned and stuffy — will be willing to spend a bit more if the brand can provide the trust that they're after.
Babies as customers
But selling to parents is only one part of it — if anything, the baby themselves is the most important party to win over.
"We spent close to two years developing our first product, and we really think about the ultimate user, the child," says Hoang. The problem is, she adds, that "infants don't tell you what they want."
This is where clever product design can come in handy. EmBeba's diaper balm comes in a stick rather than lotion format, housed in a cardboard tube printed with a cute panda bear character. The lid can be given to the child to play with, almost like a fidget toy. This is where the magic happens, says Hoang. Distracted, the baby can momentarily forget about their uncomfortable diaper rash. "They stop crying, the parents can focus, and you can change the diaper quickly."
It's this moment of seeing their baby be comforted that can make or break a parent's trust in a new skincare brand, Hoang says.
Embeba's next product, launching imminently, is a patch that can soothe rashes and bites. To look at, they are essentially big, bright, fuschia colored stickers that can be drawn on. Hoang is hoping the products will have that similar delightful effect — and provide a calming effect for infant and their parents alike.