ZYN
ZYN makes a low-sugar electrolyte drink mix using a blend of natural ingredients and Turmeric to provide antioxidants, reduce inflammation and aid in muscle recovery.
drinkzyn.com
Average rating from 2 users
These showed up as a targeted ad in my IG feed. The algorithm did not miss. These are outstanding. The flavors are good and the immunity benefits are hopefully as beneficial as they appear to be.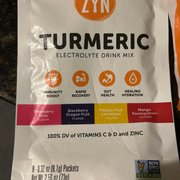 ---
As a Type 1 Diabetic, it is VERY hard to find electrolyte-rich mixes and drinks that aren't packed with sugar. The thought of having to give myself substantial amounts of insulin for something that should be stress-free has kept me away from everything on the market. In comes Zyn. Tastes good, has a ton of health benefits, and just a few carbs per serving.
---