Average rating from 2 users
Where do I even begin! I was a party a few weekends ago and someone bumped into me and the red wine went everywhere! My clothes, the carpet, my shoes...everywhere. As I stood there horrified my friend ran over and pulled a bottle of the MIRACLE PRODUCT WINE AWAY out of her purse. We sprayed my clothes and a few minutes later the stains were GONE. I mean ALL GONE. After the party was over, we proceeded to spray Wine Away on all the wine stains on her carpet and again - they just vanished. If you drink red wine you need the bottle of magic - Wine Away ! I will never leave my home without it. And I recommend it to all my friends.
Feedback
The product is simply AMAZING. The name Wine Away says it all. It simply removes the red wine stains from clothes and carpet. I have even used it on some blood. I am blown away by this product. It works fantastic, smells great and best of all I just found out it's WOMEN OWNED. I am a forever Wine Away fan.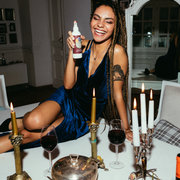 ---
Wine Away is truly a fantastic product! It works on red wine stains, coffee, blood, ketchup, sports drinks, and more! I have never been more impressed by the versatility of a product. You should definitely check this one out!
Feedback
Check out all of their size options and pick out which one is best for you! I love the signature collection and the 2 oz. bottles.
---