Average rating from 85 users
90%Recommend to a friend
Willa's Oat Milk Reviews
All

85
Dark chocolate

3
Original

1
Not that great tasting but gets the job done
---
This is a shelf stable oat milk. I use oat milk exclusively in my homemade lattes. I add homemade syrup to the oat milk and steam it. So my review isn't really based on taste alone since I don't drink oat milk outside of this. This oat milk frothed up pretty nicely. It was a little thinner than some of the other brands I've used in the past, but it is free of unnecessary ingredients. Great choice for oat milk and not needing to refrigerate them prior to opening is a huge perk!
---
---
The dark chocolate is so good. I loved that it wasn't too sweet. It both satisfied a sweet craving and was deliciously refreshing.
---
What is Thingtesting?
Thingtesting is an unbiased place to research and review internet-born brands — because honest reviews help us all shop better. Learn more.
---
I received a carton of the dark chocolate oat milk to try and it was delicious! It far exceeded my expectations. It was smooth and creamy and tasted like chocolate milk. I liked that it was sweet without being overly sweet. I had to stop myself from drinking more than a full glass of it when I first tasted it. The only downside is the price - at $10 a carton for one ($9.99 on Amazon Prime where I have free shipping) or $43 for six - it's a little more than I would want to regularly pay for oat milk despite how good it tastes.
---
This is the only oat milk that I'll drink! Here's why: 1.) it's zero-waste, they use the entire oat. good for the planet. 2.) there are no vegetable oils or canola oil or fillers like Oatly. (having a medium sized coffee with Oatly in the morning is basically the glycemic equivalent of a medium mcdonald's fry. no shade to mcdonald's fries, i'd just rather eat french fries when i want than be drinking canola juice with my coffee every morning.) 3.) it actually tastes good and not like weird water! I really love the dark chocolate one, was stoked about the Thingdrop which was such a good price point. you can buy Willa's basically everywhere that's convenient, including Amazon, which is another win. (any other oat milk that doesn't have canola in it has been kind of hard to track down.) this is an A+ for me and i'll be a life long fan of this brand, which is also family-owned and based on a grandmother (Willa herself)'s recipe! woo!
---
Dark chocolate flavor was very tasty and I can't complain. Califia Farms Barista Blend is still hands down my favorite so I would like to give Willa's barista blend a try to really compare between the two. Look forward to updating my review.
---
Tried the dark chocolate one. Tasty, thicker than other oat milks i've had.
---
I was hoping this would taste like traditional chocolate milk however for me the taste was not really the same. Since traditional chocolate milk is usually made with hershey's syrup and this uses natural cacao flavoring, I did not expect an exact taste but the flavor just left a weird aftertaste for me and didn't taste super chocolatey.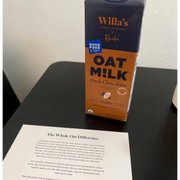 ---
The Dark Chocolate is absolutely delicious! The whole family agrees that the flavor is terrific. The mouth-feel is a bit more watery than anticipated given the "milk" label. Amusingly, my youngest thinks it has an after-feel in your mouth (vs. an "after-taste") that surprised her. But all-in, we love it and will be getting more given how clean the ingredients and delicious the flavor!
---
I was absolutely stunned at how much I loved the Dark Chocolate Oat Milk! I've never been a big milk drinker, and figured this would be a good addition to smoothies or for cereal. I ended up drinking this oat milk on its own as a sweet treat. It is perfectly delicious on its own, and doesn't have a weird consistency or texture like I have experienced when trying to enjoy other oat milks on their own. I will definitely be purchasing this again whenever I find a store that carries it. Exceeded all expectations!
---