Vivanterre
5 • 5 Reviews
Vivanterre makes a delicious, natural wine using organic grapes and sustainable practices based in France.
vivanterre.com
Average rating from 5 users
100%Recommend to a friend
I'm a fan of everything Rosie Assoulin creates so when I found out she and her husband, Max, had ventured into the natural wine space I was immediately intrigued 👀. From a branding perspective, the design is thoughtful and slightly more sophisticated, and timeless than some of the other brands in the space, which feels quite true to all else she does. I'm by no means a natural wine connoisseur, but I'm having a moment with chilled reds so we went for the Gamay, which did not disappoint. I especially appreciated the unexpected and very subtle sparkling touch. Excited to try their other bottles 🕺
Feedback
Would love to see Vivanterre available at more local shops in Miami as they scale!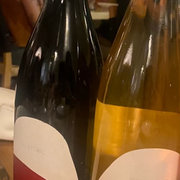 ---
I got to meet their team at an event at June's All Day in Austin, and have purchased it ever since. I've enjoyed all that I've tried, and haven't yet tried the Pet Nat.
---
---
Found the wines to be delicious and loved the story behind the brand and winemaking. The bottles are also beautiful (just the cherry on top!)
---
What is Thingtesting?
Thingtesting is an unbiased place to research and review internet-born brands — because honest reviews help us all shop better. Learn more.
---
Vivanterre was my first experience drinking natural wine, more specifically Orange wine. I was immediately hooked. As an avid Kombucha drinker, it had a similar taste profile. Since then I have tried countless bottles of Orange wine, there are so many small-batch brands out there and they all taste so unique. After all, I think Vivanterre's orange is still the best in the game.
---
The coolest wine label out there - a true party pleaser.
---