Average rating from 3 users
One of the best hard seltzers I've had to date (and I've tried quite a few). The orange mango is maybe the best tasting hard seltzer out there in the world. The've also got a killer brand, the packaging is super fun, the story is great (not so great for being robbed, but they made hard lemonade out of life's lemons), and their instagram is always killer.
Feedback
Distribution/Production! I just moved out to Long Island and while their site says the Target is stocked I have yet to see it in two months. They are a growing brand and I hope they only get bigger so it's more readily available.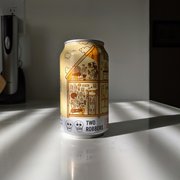 ---
---