True Gum
True Gum sells plastic-free vegan chewing gum that is good for people and the planet.
truegum.com
Average rating from 15 users
73%Recommend to a friend
My favorite gum! I love the flavors and that the gum is vegan.
---
This product is dangerous! I had a terrible experience. I removed it from my mouth into my palm after chewing, but the product just stuck to my hand, no amount of effort would remove the sticky mass. It went everywhere; my fingers, my phone, just anything I touched. Nothing would remove it. I had to interrupt everything and get home to use surgical spirit. Imagine a child using this product. It should be removed off the shelves of all retailers. I shall go to ´fresh and wild' and report this.
---
---
I read other people's reviews saying that True Gum had a weird texture and the flavour fades super fast. I was expecting a messy gum, but I was pleasantly surprised. I went for the Citron flavour and I found the texture to be pleasant and the flavour long lasting. I also loved the lemon, sorry "citron" flavour, a refreshing change from mint. I'd definitely buy again.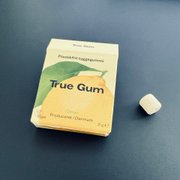 ---
What is Thingtesting?
Thingtesting is an unbiased place to research and review internet-born brands — because honest reviews help us all shop better. Learn more.
---
Love the mission, but I don't think I'll repurchase. I tried the ginger gum and while I didn't have a problem with the problem, the texture was really sticky and breaks apart easily. Several bits ended up sticking to my teeth/lips and it was kind of a mess.
Feedback
Texture could be less messier / gumminess could be more enjoyable to chew
---
I love the idea of plastic free gum! but i wasn't very happy with the actual product - the gum quickly becomes very hard, and it just isn't a match with regular gum. The idea is there - but there is still a way to go on execution.
Feedback
Texture should be softer and more chewy.
---
Really cool concept
Feedback
A little bit too expensive but it taste good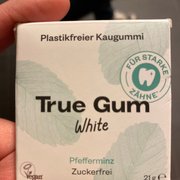 ---
Beautiful branding, good assortment of flavours (I enjoy the ginger) and no plastic. In the packaging, or the gum itself. Wahey!
Feedback
The texture of the gum is definitely a marked change from what you get at the grocery store. I didn't mind the initial chewing experience but found it hardens quite quickly. However, in saying that, it is nice to have an entirely plastic free alternative and I'm sure over time you might get used to it?
---
As soon as you've gotten used to the texture, the gums are really good. I have tried the raspberry and mint ones so far. I like that they have a not-too-artificial taste. + The packaging is really nice, the boxes feel good with the logo print printed on it.
Feedback
Special tip: The same company does "True Mint"s - THESE are sooo good!
---
I think the flavors are nice, and so is the packaging etc.
Feedback
The only problem for me would be the texture - but I suppose it's tough to match something natural to regular gum texture.
---
Lovely flavours. Didn't raise my blood sugar, like most other sugar free gums usually do. Nice and clean ingredients.
Feedback
It's VERY sticky! That might sound normal for gum but it literally stuck to my teeth and it was really hard to remove!
---