trtl
trtl sells a travel pillow that combines stability, comfort, and support in one lightweight design.
trtltravel.com
Average rating from 3 users
got the travel pillow before an international flight, hoping it would help me get some sleep. while it was better than nothing, and probably better than a regular travel pillow, it didn't quite do the trick. my neck still ended up in a weird position which didn't feel great. you also have to rotate it if you toss and turn. it is nice that it packs pretty flat and is light and washable!
---
I have this pillow in the car because I get car sick pretty easily and this actually helps.
---
---
My Turtl pillow is one of my favorite travel accessories and I have yet to come across a travel pillow that comes anywhere close to beating it in form, function or value: -It's super lightweight and takes up minimal space unlike traditional pillows which are bulky or have to be blown up which is a waste of time for just in time/pay for expedited experiences" types of travelers like me -The cover is removable so my germaphobes will appreciate that you don't have to have travel muck on you from lugging it around everywhere...I wish it after every journey -It's durable and has stood the test of almost ten years of travel and doesn't seem to be going anywhere yet -It's comfortable and holds your head up in the perfect position so your neck isn't all achey when you're done traveling -The price has gone way up since I bought it on Amazon years ago but given how long it has lasted me and it's portability for smaller trips, it's still well worth it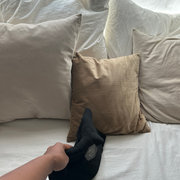 ---