Average rating from 5 users
75%Recommend to a friend
This is DELICIOUS and pretty alternative for alcohol free drinkers!
---
I love Tost! It's my favorite non alcoholic, dry champagne. It's bubbly, opens like champagne. My favorite is the ginger white tea!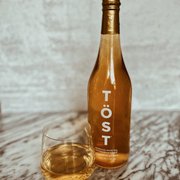 ---
---
A friend introduced me to TOST, and let me tell you, it's absolutely delicious! I found them at my local Fresh Market, and they are just delightful. The White Tea flavor is my favorite, but I also enjoy mixing it with other things for a unique twist. On its own, it's simply heavenly!
---
What is Thingtesting?
Thingtesting is an unbiased place to research and review internet-born brands — because honest reviews help us all shop better. Learn more.
---
The ENTIRE small bottles delivery was not only damaged but was shipped that way, taped and smashed DRY inside the original box from TOST, and WORSE, when i politely pointed it out bc i have been a long-time customer, the rep blew it off and implied bc i didnt take a photo of the full order which wouldnt fit simply in one picture and they didnt ask for that they asked for an example of the damage which i took, and THEN when i got upset and used words like this was "unprofessional" and the staff were "incompetent" which they were, then they had the NERVE to imply i was threatening then and that they already OVER refunded the order which is NOT true at all. This is a perfect example of people not understanding the BASICS of customer service. when someone is the subject of POOR SERVICE you stay calm and treat them well, you don't attack them for being uncivil and make it all about you as the rep. These people dont know what a J.O.B. is, it's your job to deliver things properly and well and you don't get thanked for that, you get paid for that, it's called doing your job well. and when you and or any of your team members including shippers make mistakes that affect your customers you take ownership of that mistake and ship them replacements and make it right. you don't do what this company does their service is a NIGHTMARE, it's all about them.
---
Delicious and an amazing non-alc alternative
---