Average rating from 9 users
100%Recommend to a friend
SHAYDE BEAUTY Reviews
All

9
Shayde Overnight Glow Up

1
Shayde Reset

1
Shayde Brightening Serum

1
My favorite product is the Vitamin C serum. I love that it leaves my skin healthy without leaving my skin oily. This product not being oil-based is so great because that means I can wear this everyday.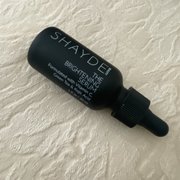 ---
I have been using Shayde for 3 years. The products are gentle on the skin, but also super effective. I love their thoughtfully made formulations. I wish I could name a favorite, but I use them all! (Ie: Reset, Overnight Glow Up, and Brightening Serum.) I also feel like the more you use them, the more effective the results become. For example, the Overnight Glow Up somehow keeps glowing me up 3 years later.. it's amazing!
Shayde Overnight Glow Up
Shayde Reset
Shayde Brightening Serum
---
---
I am obsessed with Shayde Beauty! I get the best results from using all products in my skincare routine. It helps my hyperpigmentation and uneven skin tone and brightens and smoothes my skin. I have sensitive skin, so I was worried that a high-potency product might irritate it. However, they are fantastic, and I use them every day!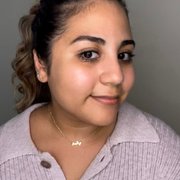 ---
What is Thingtesting?
Thingtesting is an unbiased place to research and review internet-born brands — because honest reviews help us all shop better. Learn more.
---
Absolutely love love this product. My skin has never looked better.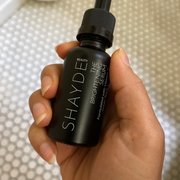 ---
Beyond the important and empowering mission of the Shayde brand, I absolutely love their products. It's not often that I buy masks but I loved how this one felt so much that I bought them for my mom, boyfriend and sister in law.
Feedback
It's important to note the expiration date as with any skincare products.
---
I LOVE the fact that these products are Aloe based and not oil or water based. It's honestly made such a difference for my sensitive skin.
Feedback
This is the end all be all for anyone with hyperpigmentation.
---
Friends with SHAYDE BEAUTY
I Love the vitamin C serum! My skin is noticeably brighter and red spots are less visible mornings after using this product.
---
I've been using the serum every day and I love it! It actually does leave a natural glow. It has helped even out my skin tone.
---
I just got this product, and within a few days of using it, I've seen a positive difference in my skin. Given that I have combination/ oily skin, I was a little nervous, but these past nights have proved me wrong. As the name suggests, this serum has reduced the size of my pores and given me a glowy and smooth feel. When I wake up the next morning, my skin has the right amount of hydration and bounce, which makes it easier for my makeup application! I love this product and will continue to use it!
Feedback
If it is your first trying Shayde Beauty, I recommend you start with the Overnight Glow up! It has all the nutrition your skin needs in one place!
---