Salty Savage
Salty Savage makes a wide variety of edgy lifestyle apparel featuring tie dye and checkerboard designs.
www.saltysavage.com
Average rating from 1 user
Influencer for Salty Savage
Salty Savage is a clothing brand with an edge. Designed for misfits, Salty Savage is a brand for all types. Their clothing style will definitely turn heads with its innovative style and messages. Whether you are heading to work out at the gym or grabbing a coffee at your local shop, the Salty Savage brings comfort and style to your updated wardrobe. I became a Brand Ambassador because I love the style and the clothes are extremely comfortable. Find a shirt or sweater that works for you and try it out. You won't be diss appointed.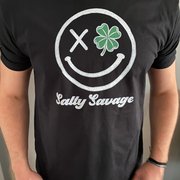 ---