Saki
5 • 1 Review
SAKI makes a range of smart kitchen appliances to simplify the cooking process.
saki.us
Average rating from 1 user
I purchased the air fryer. It works very well. It is easy to use. The app is such a nice touch. It lets me know when the frying is done and I can set the temperature and time from the app as well.
Feedback
Make the middle bar in the basket be sturdier to pull the part up to clean.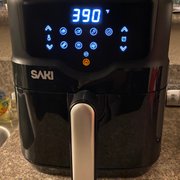 ---