Average rating from 3 users
I was particularly interested in the SLEEP blend to help with not just falling asleep at night, but staying asleep, which has been a problem for many years now. I have been thrilled with the results. I wake up refreshed and renewed without feeling groggy or sluggish. Other remedies have left me disappointed and searching for new options. My search is over! Some days, the WAKE product is just what I need to keep going and finish out my day. I love it!
Feedback
I love that Rookie Wellness offers travel packets in addition to their jars. It makes it easy to take them with you when traveling or simply throw in your purse or briefcase and go.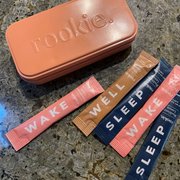 ---
My favorite is Sleep. It allows me to sleep restfully without any residual effect. I even take it when on call because I can still get up in the middle of the night without feeling sluggish and then return to sleep quickly. I also like Wake because it removes daytime fatigue without any jitteriness. Both products provide a smooth and consistent result.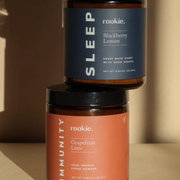 ---
---
Friends with Rookie Wellness
It's a beautiful brand that really works!
Feedback
I want more flavors! Their flavors are really good, but it can get old drinking the same one day after day.
---