Pura Vida
Pura Vida sells ethically produced handcrafted bracelets and accessories from artisans worldwide
www.puravidabracelets.com
Average rating from 3 users
Nice products but pricey!
Feedback
Probably will buy again. Nice design. Customer service slow to response.
---
I love Pura Vida so much. I literally have so many bracelets from them and a new charm necklace. The customer service is great and they have one year warranty on their pieces. ANDDDDD they give back to charity!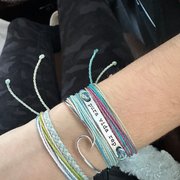 ---
---