Pretty Pegs
Pretty Pegs sells stylish IKEA furniture accessories such as sofa legs and knobs to keep your home up-to-date in an affordable way.
prettypegs.com
Average rating from 2 users
We have a few Pretty Peg legs on some different pieces of furniture. They look and fit great and are very solidly built. Much nicer than most of the options IKEA offers.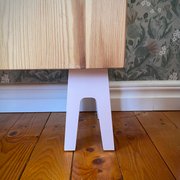 ---
Really awesome quality to elevate your Ikea purchases!
Feedback
Unfortunately, I didnt get to use my product as the color upon arrival was slightly different than the Ikea dresser I had. Holding onto them to use for another piece or if I decide to paint the whole dresser instead!
---