Pocket Tripod
Pocket Tripod makes a foldable tripod for mobile devices.
pocket-tripod.com
Average rating from 2 users
Of all the money I have spent (thousands) on products related to taking photos, shooting videos, or simply holders for my iPhone, this is without question the most useful. I have 3 if that is any indication. I keep one in my wallet, one on my desk and I gave one to my wife. I use it every day, all day. It is one of the most carefully thought out, brilliantly designed and engineered products I have ever bought.
Feedback
If there was on thing I would say can be improved upon although it would be an add-on accessory not an actual improvement would be a a way to plug in a microphone and the lightning cable while in the Pocket Tripod in the vertical position.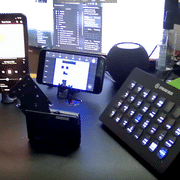 ---