Average rating from 3 users
I first saw this brand in a boutique grocery store in San Francisco that's highly regarded for selling amazing, local products - I knew based on this store and based on Mommenpop's packaging that this drink was going to be artisanal and thoughtfully made. And it is! I've since learned that the product is made with all local, organic ingredients - grapes, citrus, and that's it! I love knowing that there's no added sugar or flavorings.
Feedback
Every Mommenpop flavor is truly delicious. My favorite flavor, Seville Orange, is perfectly balanced - tangy and zesty just like a Seville, but warm and bright with hints of vanilla bean. I love it just by itself on the rocks, or with a little splash of sparkling water to make it lower ABV. I want to gift it to everyone I know!
---
I'd heard about the brand from some friends and ordered the blood orange Mommenpop online. After hearing about the high sugar content of other popular mixers. I was ready for something more organic and genuine, and this beverage hits all the right notes. We love it straight up, in a spritz, and as a mixer . It's absolutely delicious!
---
I picked up their California Spritz kit and mixing the rosé to the blood orange aperitif 1:1 as they recommended was great! My wife and I loved it. The taste definitely lived up to the beautiful packaging. I'm looking forward to trying some other flavors, especially the kumquat-pop!
Feedback
It's hard to say. We loved it!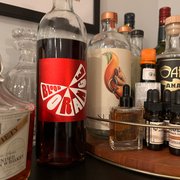 ---