MATTER OF FACT
MATTER OF FACT creates an innovative face brightening serum and hydrating cream using a waterless, vitamin C formula.
matteroffact.com
Average rating from 1 user
Received a free product from MATTER OF FACT
I've always had a hate/hate relationship with vitamin C serums and no matter what product I tried or how much it cost, I couldn't get myself to use it consistently. But then I decided to give Matter of Fact's Brightening C Serum a go and I truly love it. Unlike so many other vitamin C products, Matter of Fact's product isn't sticky, it plays well with everything else in my skincare routine and it never complains. Because of the thoughtful, functional packaging and innovative formula - I truly don't feel like I need to worry about the product going bad (as we all know vitamin C tends to do). This is the first vitamin C serum I can really recommend to people and I don't feel the need to try ones from other brands - this one is the best.
Feedback
I wish there was a way to tell how much product you have left - I have absolutely no idea how they would do that but it would be a great addition.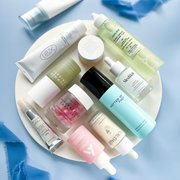 ---