Average rating from 24 users
100%Recommend to a friend
Maker Wine Reviews
All

24
Sparkling Sauvignon Blanc

1
Chardonnay

1
Received a free product from Maker Wine
Tried the sparkling sauv blanc, smelled a bit funky... but it was tasty and I got a good buzz from it, so, a win is a win! Canned wine is tricky sometimes so I'm excited to see how the others taste.
Sparkling Sauvignon Blanc
---
Influencer for Maker Wine
I love Maker Wines. They are perfect for my beach and picnic days. I love the cute can designs. I also love that they work with small wineries.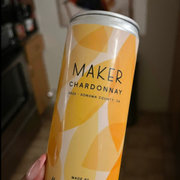 ---
---
Amazing product! I love the brand's commitment to uplifting small businesses and women-owned wineries. I recommend one of their variety packs, which is a great way to experience new flavors and new brands. The packaging and presentation is also top notch!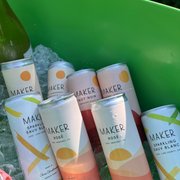 ---
What is Thingtesting?
Thingtesting is an unbiased place to research and review internet-born brands — because honest reviews help us all shop better. Learn more.
---
Like a lot of folks here, I was initially skeptical about canned wine. The minute I read some of Maker's winemaker stories, I was hooked on trying and supporting. I love that the brans elevates and provides a platform for diverse winemakers producing smaller batch, unique premium wines. All the wines are dry and many of the white and sparkling wines have turned me from a "reds-only" kind of gal to an "I'll drink anything out of a Maker can" kind of gal. As you can see, I love taking these cans on adventures.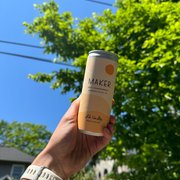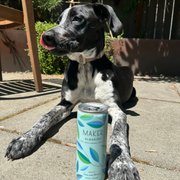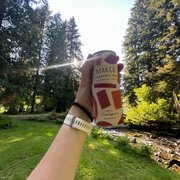 ---
Hands down the best Rose I've ever had. I could drink that pretty much for the rest of my life! 🤩
---
I was skeptical about this brand as canned wines I've had in the past have been middle of the road. That is certainly NOT the case with Maker! The wines are top notch, the packaging is beautiful, and the stories that come along with each variety really bring in that small business feel. I'd say I love having the cans displayed on my bar cart but they usually don't last there very long ;) 6 stars for Maker!
---
I am obsessed with this company. I thought it would just be more convenient to try drinking a can of wine vs. opening a bottle, but it turns out it was more than just convenient. The wine is unique, delicious, and you feel good about drinking it knowing exactly who you are supporting - women & minority owned vineyards. If I could give 10 stars I would.
---
Super delicious! They're the perfect size to take out and fit really well in my Brumate. Also, they look so pretty!
---
great canned / single serve wine from a women-founded company! I had the chance to try these wines at a wine tasting recently and would not have guessed that they came from a can.
Feedback
more availability in brick-and-mortar retailers
---
I've tried every canned wine out there and Maker is the best. I love that they work with female and minority small production wineries, and the quality is on par with my favorite bottles of wine. Living alone, I can't imagine not being able to open a can of Maker for a glass instead of opening a whole bottle! Plus, I LOVE their Can Club. You can order over text and have access to members only wines that are super unique and special.
Feedback
More still white wine options! I'm dying for a quality Chardonnay.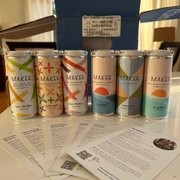 ---