Average rating from 4 users
100%
Recommend to a friend
Feels like a simpler, smarter way to clean my home! The essential oil smells amazing. I've used it everywhere – kitchen, bathroom, wood dining table, even my floors. I also love that I don't have to worry about using it around my dog! All around great product :)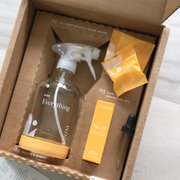 ---
LUUM is my favorite cleaning product to use! The scent of this cleaning spray is so fresh and invigorating! I use this on all of my countertops, appliances and in my bathroom. I love that the ingredients are clean and natural and I'm not breathing in any harsh chemicals while cleaning. One other plus- the bottle is cute and reusable!
---
---
So glad I found this product. Not only does it smell great but it's also safe for animals and children. I use LUUM for everything from countertops to cabinets.
---
What is Thingtesting?
Thingtesting is an unbiased place to research and review internet-born brands — because honest reviews help us all shop better. Learn more.
---
I love this cleaning spray. From the packaging, the bottle design, to the ingredients and cleaning power - it is one of the most-used cleaning items in my house. The bottle looks beautiful on my counter - so I can leave it out and clean up throughout the day, while cooking, and especially clean up after my daughter. The ingredients are super clean - so I love that I do not have to worry about the spray getting near food. I even use it to wipe down my daughter's play areas. The tablets take up very little space in my cleaning cabinet and the essential oil smells amazing. 10 out of 10!
---