Long Drink
Long Drink makes a range of citrus soda infused with real liquor.
thelongdrink.com
Average rating from 6 users
100%Recommend to a friend
I truly have never experienced black out drunk till I had the 8.5 and many. Give this the highest rating ever. It's amazing and tastes fantastic. I'm still regretting my actions. Best ever. Tk u long drink. Just bought the 5.5 to keep my senses.
---
If you're a fan of gin... Look no further for your new go-to canned drink. These are so good, and the black ones are 8.5% if you want that strong cocktail feel, and the others are 5% for a seltzer feel!
---
---
Both the original and sugar free are delicious and do not feel very sweet or sugary.
---
What is Thingtesting?
Thingtesting is an unbiased place to research and review internet-born brands — because honest reviews help us all shop better. Learn more.
---
The regular, light blue can is so so delicious. It is very refreshing after a hot day and easy drinking (I didn't believe there was any alcohol in it at all at first). I would personally stay away from the other varieties, I didn't love the cranberry flavor (it tastes a bit like cough syrup, in my opinion).
Feedback
More flavors would be great!
---
I absolutely adore Long Drinks! I am generally not a huge fan of spiked seltzers/canned cocktails because I find the taste of malt liquor and the artificialness of the flavorings unappealing; Long Drinks are nothing of the sort. They are easy to drink and great to bring to a party. I have yet to meet anyone who outright dislikes them.
---
Bold grapefruit on the nose but subtle on the tongue. Throws me off every time I go to take a swig so easier to drink with ice and a straw but goes down like water. Get some hints of juniper but nothing of gin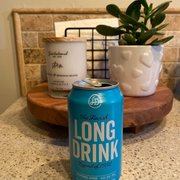 ---