KYX World
4.91 • 11 Reviews
Kyx World offers a limited-release sneaker subscription service offering over 300 trending styles in all adult sizes.
www.kyx.world
Average rating from 11 users
100%Recommend to a friend
It works! I have done this for two months. So far, so good!
---
While I might be a bit bias, as a lifelong sneaker lover KYX has changed the game. It was so difficult before to try shoes before you bought them with so many styles fitting and looking differently on-foot. With KYX I've gotten the chance to experience shoes I would never buy and there's something truly magical about that feeling.
Feedback
KYX is not even a year old so lots of fun improvements are incoming including a new website over the summer!
---
---
Love this service! Get all the new drops without having to worry. Trade them out for something different all the time too
Feedback
More than just shoes would be dope
---
What is Thingtesting?
Thingtesting is an unbiased place to research and review internet-born brands — because honest reviews help us all shop better. Learn more.
---
Full disclosure I work for KYX - but here's the thing I'm not a sneakerhead. I don't care about sneakers and I thought it was a silly idea at first. But using the service has rocked so far - I get to rock a new pair of shoes whenever I want, I get to try sneakers I'd never have bought because they're out of my comfort zone, I can even swap shoes just to match a particular outfit I have planned. You can even buy out the shoes if you don't want to part with them - a thing I've done. And you can wear the shoes like you own 'em which I can attest to I've put some of the shoes through the wringer. I think it could be a good idea for parents to rent shoes for their teenagers instead of having to buy them new shoes all the time as their feet grow and tastes change.
Feedback
I wish there was more selection some of the shoes I want to try the most like the Adidas X DBZ collabs aren't on the site. I want the weird shoes, the unique shoes, the freaky ones I want to feel like a kid in a candy shop and right now a lot of the shoes are more classic styles in different colorways which personally doesn't interest me.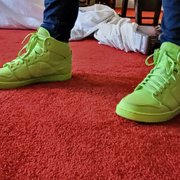 ---
I have been subscribed to KYX for the entire year now and love it! It is a great solution for anyone looking to get into sneakers without absolutely breaking the bank! Great shoe selection, Customer Support is always helpful, and the value of the subscription is well worth it.
Feedback
Easy answer! More sneakers for selection.
---
I been here from when you could either rent new or used, and they are always expanding
Feedback
Bringing back the renting new for extra could be good
---
Very easy to select my shoes based on size and availability. Never have to wait more than 2 days to receive my new pair!
---
Love the idea! I was able to try a bunch of sneakers before I bought them. And Customer service is great!
---
Awesome brand! Very innovative yet customer service driven. Has had every sneaker I've wanted. Big fan!
---