KOS
KOS makes a range of vegan, protein-packed drinks.
kos.com
Average rating from 5 users
100%Recommend to a friend
I've long been on the hunt for the best plant-based protein with enough added protein without compromising on taste or quality ingredients. KOS fits that bill. Each flavor doesn't leave you with that supplemental, "protein" taste, and perfectly pairs with a smoothie or plant-based milk for an easy shake. Vanilla is my favorite given the true vanilla flavor, but chocolate is also delicious for its truly rich chocolate flavor. Love that KOS also makes a lot of other drink additives, from quality Ashwagandha to Spirulina.
---
I have tried SO many vegan protein powders since I was born with an allergy to dairy. Whey protein doesn't work for me and with fitness being a big part of my lifestyle, added protein is vital to my sustained health. I just discovered KOS 7 weeks ago, and I just started my Amazon subscription to get it shipped to me regularly. I am blown away by how delicious it is and by how good I feel after drinking it. I make delicious tropical smoothies with frozen fruit and almond milk. The added value in KOS over other protein powders is both the taste and the added nutritional density of the product with its extra vitamins and enzymes to help the gut break it all down. I'm also a huge fan of their packaging and branding - it's very likable and welcoming and playful. Definitely try out the vanilla, it's so good and the most flexible flavor when it comes to making smoothies.
---
---
One of the only protein powders I can eat without getting an upset stomach. The peanut butter chocolate flavor is amazing!
---
What is Thingtesting?
Thingtesting is an unbiased place to research and review internet-born brands — because honest reviews help us all shop better. Learn more.
---
I love there products they are clean and taste good
---
Decided to add a little more protein to my diet, sometimes I'm not very motivated to cook EVERY NIGHT lol. So having a meal replacement wasn't such a bad idea, especially for breakfast. I found this company on Instagram and decided to give it a shot. I usually stick to the basic unflavored or vanilla, but their chocolate flavor was pretty popular! Like voted #1 popular! So, I ordered the 2.4lb chocolate organic plant protein and it came with two gummy samples. The delivery was extremely fast and the packaging was very secured. Can't forget to mention that their protein bag is also made from recycled materials. What I can appreciate most about KOS is their variety of flavors and sizing. Before committing to a new product, some people like to try things out and they are well aware. The protein powder itself is very delicious and not an overpowering factory flavored chocolate. I like to mix it with oat milk and frozen bananas for a perfect smoothie texture. I also love to experiment with different fruit every now and then just to keep things fresh. Thankfully the powder doesn't feel gritty in my mouth or leaves a weird aftertaste no matter the combination. Consuming this every morning for about two weeks definitely helped with my gym routine and overall energy. It gave me the extra boost I needed and also aided in my gut health as well. I'm pretty impressed and I cannot wait to try a new flavor soon.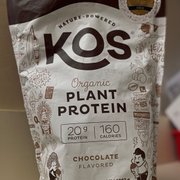 ---