JavaSok
JavaSok makes a range of products to prevent condensation on iced coffee cups.
sok-it.com
Average rating from 174 users
98%Recommend to a friend
JavaSok Reviews
Review highlights
Inaccessible
Plastic
Condensation
These dang things are my holy grail. I absolutely HATE iced coffee condensation leaking all over and staining my desk. I also hate when my iced coffee waters down and tastes gross. JavaSoks do both, so they insulate and they soak up the condensation to prevent a a mess. I have a ton of different JavaSoks in different sizes and I use them daily, then rotate them out & toss them in the wash if they started to get coffee stains. They're like the simplest mini life upgrade that makes a maxi impact. If you're reading this, just go buy one. Actually, go buy one in each size of coffee you drink on the reg. You won't regret it.
---
Unfortunately, I'm not a big coffee chain drinker, so don't always have the JavaSok handy with me. However, the quality is great, and they offer plenty of designs to satisfy anybody's preference if you want to gift them! The one time I did use it, I found it kept my drink colder for longer.
---
---
Had to try the JavaSok out after seeing several people at work using them. I'm a daily Starbucks iced chai girly & can't stand cup perspiration. It makes my drink instantly cuter, contains the perspiration, is washable, & makes carrying an iced drink through the frozen Minnesota tundra more tolerable.
---
What is Thingtesting?
Thingtesting is an unbiased place to research and review internet-born brands — because honest reviews help us all shop better. Learn more.
---
These are great if you are someone who drinks iced beverages year round! In the summer it prevents the cup from sweating and in the winter it prevents your hands from freezing!
---
I got the cow print and I love it. Keeps my hands from getting too cold when I'm drinking cold brew outside in the winter, and keeps my coffee table dry when I'm inside. Win win!
---
Love this brand and product. These things help with sweating drinks so well! I now have 4 and plan to get more. I love the different patterns they come out with and the sizes work perfectly.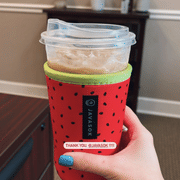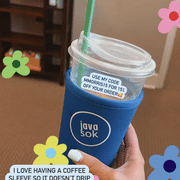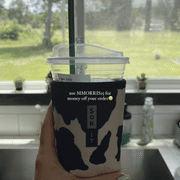 ---
I love JavaSok! I have four and use them all the time. Thy make it so much easier to carry a cold drink with you. They have so many cool colors and designs from which to choose. I keep some of these at work and some at home.
---
Did JavaSok reinvent the coozie and make it... actually kinda cool? I gave my cowprint Javasok to my sister and she fell in LOVE with it. Like genuinely, she was really impressed. Very amoo-sed.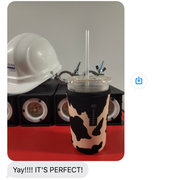 ---
So cute! I love how it looks on my cup and how it can fit in multiple sizes. I was hoping this would slow down how fast my drink waters down, and I'm still a little unsure about how well it does that. But I love using it!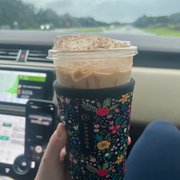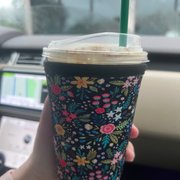 ---
The perfect desk companion for my iced coffee! It felt higher quality and thicker than I anticipated and I love that it doesn't sweat all over my desk.
---