Average rating from 5 users
25%Recommend to a friend
6+ months of waiting. Excuse after excuse after excuse, sometimes the same excuse used again and again. When the item finally arrived it was basic.
---
I love my huey lightshop sconces! People always compliment them on how cool they look, and you can't beat the price for the quality. My items arrived quickly and were installed with no issues. I couldn't be happier with the purchase!
Feedback
I also have the mini prairie table lamp, and it's obviously made of ceramic which doesn't let any light through, so just something to keep in mind that they really only direct light in one direction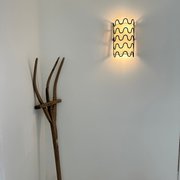 ---
---
The lights were cute but the communication with the shop was terrible. Don't think the wait, the trouble was worth the lights. The delivery schedule got moved back five or six times with ever changing reasons or no explanation.
---
What is Thingtesting?
Thingtesting is an unbiased place to research and review internet-born brands — because honest reviews help us all shop better. Learn more.
---
Ordered in July and still haven't received my item. We email weekly with them saying oh it will be sent out this week! I'll make sure of it and nothing. I think they wait a certain length of time so you can't get money back. Also the lamp cord of one I did get is like outrageously long. I have no clue why they would make a lamp cord this long
Feedback
Being honest, especially about time frame, and not straight up lying.
---