hast
5 • 1 Review
hast makes high-quality yet affordable knives featuring a minimalist design and powder-steel blades.
www.hast.co
Average rating from 1 user
Received a free product from hast
As someone who always has invested money into all my knives except pairing and bread/serrated knives, I was excited to give this knife a try. I could easily feel the difference right out of the box! It's definitely a beautiful knife, looks great, but also has a great feel and weight to it. It's thick enough so it's not wobbling or slipping when you cut but not too thick where it feels clunky, and cuts through bread with ease. I've only had it a short time but it feels like it will hold up well over time! Overall very happy with it, it's a great knife!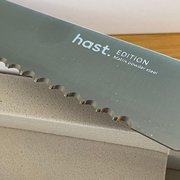 ---