Happy Being
Happy Being makes a white tea drink to boost immunity, promote gut health, and fight inflammation.
happybeing.co
Average rating from 1 user
I had the most positive experience with Happy Being and their team. They went above and beyond to send me protocols and answers to my personal health questions and have supported me along my health journey.
Feedback
Happy Being - both the tea and shake are delicious. I look forward to them each day. I have already lost 5 lbs ever since I began detoxing with the shake and my gut health has drastically improved. I also havent gotten sick once this year and I credit that to the vitamin d3 and elderberry in the tea.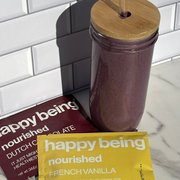 ---