Goodhabit
Goodhabit makes nourishing treatment skin care balms that combat blue light damage.
goodhabitskin.com
Average rating from 1 user
The brand offers products formulated to protect your skin from Blue Light which I think in modern times is innovative. How effective they are is questionable. The skincare products themselves are wonderful and well thought out. I have tried their serums and masks and have never been disappointed. Their packaging is beautiful and some of my most interesting as well. Here are some thoughts on what I have tried: 𝑪𝒂𝒕𝒄𝒉 𝑭𝒍𝒊𝒈𝒉𝒕𝒔 𝑵𝒐𝒕 𝑭𝒆𝒆𝒍𝒊𝒏𝒈𝒔 𝑺𝒆𝒓𝒖𝒎: I do enjoy this lightweight milky serum in my routine. I usually layer hydrating serums to combat the dry air at work, but this serum alone has been enough to keep my skin hydrated. The applicator is very unique! It's a wide flat head with five holes to dispense the product. Definitely have to apply on a clean face and/or clean the dispenser. Glow On Enzyme Mask: Texture wise this mask reminds me of mushy oatmeal! It has a fruity smell due to all the fruit extracts but it's not overwhelming. I didn't find the mask particularly irritating, however it did sting an area on my cheeks that had some pick pimples. One thing I really didn't like was the filmy, waxy residue left behind. I realized that the ingredients included Sunflower Wax pretty high up on the list. I had to cleanse my face again right after. Otherwise my skin felt hella smooth after using this mask. And maybe a little bit brighter?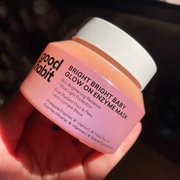 ---