Average rating from 1 user
I received the eyemask as a gift. It was a nice unboxing and the mask itself is good quality. My only issue is that it was a bit slippery and too big for my head. This happens a lot for me with eyemasks so might not be just Good Side but waking up with it on the pillow is obviously not ideal.
Feedback
Maybe a bit smaller sizing?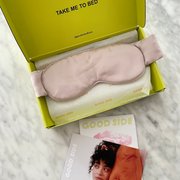 ---