Goldling
5 • 2 Reviews
Goldling makes refreshing and organic canned vodka sodas using all natural fruits, herbs, and spices.
What is Thingtesting?
Thingtesting is an unbiased place to research and review internet-born brands — because honest reviews help us all shop better. Learn more.
Average rating from 2 users
Goldling Reviews
Experience
These goldling cans are my go-to drink now. They taste so much better than any other can on the shelf. It makes me realise how bad other cans taste. You could honestly put it in a glass with ice and I would have thought someone freshly made it. So so delicious! Thank you goldling!
Feedback
I am so excited to see what these guys do next to be honest. I haven't got bored of the two flavours they have though, so yummy. Everyone has different opinions about their favourites as they are both so good - so I recommend getting a multipack and trying for yourself! Delicious
High quality
Innovative product
Cool look & feel
Worth the money 💸
Fun unboxing 📦
Tasty 😋
Eco-friendly packaging
Sustainable products
Love the brand's mission 💕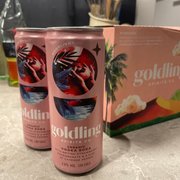 Experience
Obsessed with these drinks not only are they delicious and low cal but they also don't give me a hangover which is a real plus! The flavours are sophisticated - not too sweet which I find with most canned cocktails- cant wait to see what comes next hopefully a tequila 👀🎉
Feedback
Honestly can't critique- these are great if you hate sugary drinks but still want flavour and natural sweetness - I love that they are organic and look great in my fridge!
Lovely customer support
Good for gifts 🎁
High quality
Innovative product
Cool look & feel
Worth the money 💸
Fun unboxing 📦
Tasty 😋
Amazing website
Love the brand's mission 💕
Luxury