Gnista Spirits
Gnista Spirits offers non-alcoholic spirits that truly resemble a fine spirit.
www.gnistaspirits.com
Average rating from 2 users
I think it is a great product, that does what it says. The perfect blend of everything, that goes well in a variety of cocktails, as well as by itself.
Feedback
No need for improvement, just looking forward to new products by this company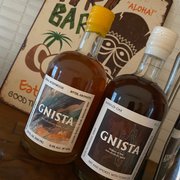 ---
It was superb!
Feedback
The price, otherwise nothing!
---