Fungirl
Fungirl makes an assortment of plant-based snacks featuring mushrooms as the main ingredient.
fungirlgoods.com
Average rating from 1 user
I have tried this chocolate many times and it is definitely my favorite bar out there. It is creamy, rich and delicious. Also it has mushrooms in it which i love so much, they have so many benefits.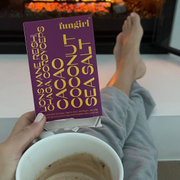 ---