Food52
Food52 operates a creative food community offering recipes, kitchen and home products, and advice.
food52.com
Average rating from 4 users
100%Recommend to a friend
I've followed them for years on social media. They come out with some of the best/ most unique recipes that always draw me in. I've purchased a few of their products (called Five Two) that totally level up the kitchen game. They're so thoughtfully designed, with actual bakers and cooks in mind. I have their small oven mitts, and two of their pots. The pots have measuring lines inside (genius) and straining lids so you can drain out that pasta water without using another kitchen item. I've also purchased other fun brands on their shop- but it's so easy to find those products in other places. What sets their store apart are the Five Two products and products make in collaboration between another brand and Food52 (that is uniquely on their site). I don't purchase a lot from them, maybe once a year or less, but it's always high quality.
---
Full disclosure, I worked here for a long time and was privy to the inner mechanisms that made our products happen! Years later, there are a bunch that I still use on the daily and rebuy even though I no longer have the employee discount. The original products in the Five Two line are awesome-- the silicone utensils are phenomenal. I've gifted them to many friends and family. The magnetic pot warmers and oven mitts are also amazing. Those are my draft picks! They hold up for years. I also really love the Five Two sauce pan.
---
---
I purchased the silicone drying rack from this brand last summer, and I must say it was definitely money well spent. The quality is top notch, it does the job, but also has the added benefit of not looking like an eyesore on my counter top. It's also easy to clean and has proven to be a staple in my kitchen.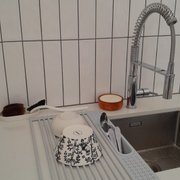 ---
What is Thingtesting?
Thingtesting is an unbiased place to research and review internet-born brands — because honest reviews help us all shop better. Learn more.
---
Love Food52's recipes and products. My partner gifted me a really cute apron from them with built in potholders and so many pockets.
Feedback
Great site if you want to improving your cooking. Products are expensive but high quality.
---