FFS Beauty
3 • 2 Reviews
FFS Beauty offers an eco-friendly shaving subscription for women by delivering razors directly to consumers' doors.
www.ffs.co.uk
Average rating from 2 users
The razor itself seems good quality, however the rose gold effect starting coming off after the first use (this was an added, paid for, extra) Starter kit came in a handy travel bag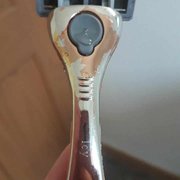 ---
Easy to open a subscription - they ask questions like how often you shave etc., and then calculate it all for you. They also offer adds on like shave cream, and waxing strips. I really like the subscription functionality, as buying new razor blades is something I don't want to have to think about.
Feedback
Disappointingly, the razor holder kept falling off my shower wall, and on the third fall it completely snapped. I've had other holders before that didn't do this, so this was pretty disappointing and the reason why I've knocked off a couple of points. The razor itself however is very efficient - and coupled with the shave cream, it left my skin super silky.
---