Felix Grey
Felix Grey makes high-quality glasses that protect the eyes by blocking blue light from electronic screens.
shopfelixgray.com
Average rating from 6 users
67%Recommend to a friend
Honestly I never really experienced a difference when using these glasses. They have held up well though so you do get a good quality product. If anything, I would recommend paying up for the prescription lenses. I didn't and I think my dry eyes from too many hours of screen work when I was working 12+ hours a day were due to just having contacts in for too long. Whether regular glasses vs. these blue light glasses would've made a difference - that I don't know.
---
After a year of using Felix Grey's, I can't truly say that these have been a game changer. I like to tell myself that maybe there is a placebo effect at play. As someone with good vision, these actually make my vision feel worst and it's a struggle to keep them clean. Also when doing color work on the computer, you have to take them off since they create a slight change in color. I like the styles available and the quality is just okay.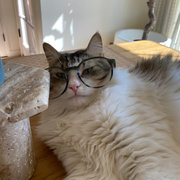 ---
---
Cute and goood quality but all of their styles run very big/oversized. I tried this one back in the day but ultimately did not buy them as I have a small face. Now it is easy to get blue light blocking from anywhere.
Feedback
Recommend having more inclusive sizes. (41-46 mm)
---
What is Thingtesting?
Thingtesting is an unbiased place to research and review internet-born brands — because honest reviews help us all shop better. Learn more.
---
Been using my Felix Grey Nash glasses for a few years now and they hold up well! They have a slightly yellow tint to the lens but you can't really tell as an observer. I use them everyday to help with eye strain.
Feedback
Only downside is the Nash glasses tend to be a bit big on my face and sometimes will slip off my nose.
---
I have two pairs and I love the look and sleekness while being able to not get headaches when spending 1 too many hours on screens. However, I have seen with time, that a tint appears on the lenses. Nonetheless, I love that you can't tell they are blue light blockers!
Feedback
I found the glasses arms' to loosen quite easily and have had to get them adjusted a few times so perhaps sturdier arms or stronger material.
---
I do graphic design for work so I need blue light glasses that doesn't distort the colors of what I'm seeing on the computer. I've tried several brands and this one is the best in terms of the screen colors looking the same while wearing them. The quality of the frames and case that it comes with are nice. The only thing is that the two pairs that I bought seemed a tad too small for my head and gave me a headache if I wore it for too long, which unfortunately defeated the purpose. It's worth trying it out if you're looking for blue light glasses that don't tint everything yellow.
---