Average rating from 6 users
By far my favorite hard seltzer. The drink is low in sugar and full of flavor. I love the Pineapple Jalapeño most but also enjoyed the Cucumber Like Basil. Super refreshing and light with enough of a buzz! A fun brand overall and great for a picnic or beach hang with friends.
Feedback
Wish they had more distribution! Have always ordered online to Chicago.
---
Amazing drink - super refreshing and natural tasting
---
---
Elenita is everything I have ever looked for in a canned cocktail. It is upscale and has sophisticated flavours and tastes so clean! I am so obsessed. The brand is cool and they nailed the flavors. My favorite is the passionfruit Paloma. Highly recommend - do not sleep on this brand!
Feedback
More flavors asap! Also, I wish it was available more places.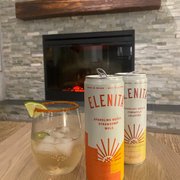 ---
What is Thingtesting?
Thingtesting is an unbiased place to research and review internet-born brands — because honest reviews help us all shop better. Learn more.
---
This company hires artists to design stuff for them, ghosts the artists, blocks them on social media, and DOES NOT PAY THEM! Please do not support this company and their products as they steal from people who performed services for them. Absolutely disgusting business ethics by the owners of this company, they should be ashamed, and everyone needs to know about this.
---
This company is AWFUL! The owners at Elenita scam artists by bringing them in to do work, then when the work is done, they don't pay and just move on to new artists who are unsuspecting so they can get free labor. Super shady and shameful!
Feedback
Do not buy Elenita unless you want to support really awful business practices. So many companies today take pride in their brand missions and how they fairly treat their workers. Not Elenita. They give a huge middle finger to the people that make their brand look good. TOTALLY AWFUL!
---
This is THE drink of the summer hands down. Not only is the packaging such a vibe, but the taste and quality of Elenita is unparalleled to any canned tequila beverage I've tried. All the flavours are delicious and so refreshing. Trust me, you need to pick up a variety pack for your next summer outing.
Feedback
Only feedback is that we need Elenita in Canada!!!!
---