Average rating from 3 users
I'm totally obsessed with the rings I got from them, and I wear them literally every day. The quality is on point and make my hands look cute even if my nails are a mess. The only thing I wish is that they had a larger selection of jewelry. Overall, I'm a fan of dov jewelry. Their commitment to ethical fashion, combined with their stylish and high-quality jewelry, has made me a loyal customer. Can't wait to see what they come up with next!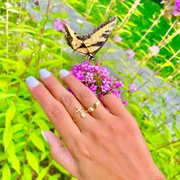 ---
I purchased two pairs of earrings from Dov Jewelry and can't stop wearing them! I am obsessed with the Celeste hoops and get compliments on them all the time. I love how the pearl can be removed and added back on for two completely different looks. I also received fabulous customer service. Overall, I could not be more satisfied with my experience!
---
---
I received the love at first sight set as a bridesmaid gift, and it has quickly become one of my favorite accessories. The quality and design are top-notch, and I receive compliments on it all the time. What makes it even more special is that it was such a meaningful gift, and I treasure it dearly.
Feedback
One thing I would love to see from Dov Jewelry is the incorporation of silver into their collection. I know my mom would adore their jewelry as well if it was silver.
---