Dom has permanently closed down.
Dom
5 • 9 Reviews
Dom makes organic hand sanitizers featuring natural scents of rosemary and lavender.
https://athomewithdom.com/
Average rating from 9 users
100%Recommend to a friend
Bought during COVID for myself and my boyfriend. CEO is so lovely and just real. I'm a sucker for the Lavender and my boyfriend is all Rosemary. Although Rosemary isn't for me, the price and the spray isn't too much or too little. You don't waste and the packaging is great.
Feedback
Got my boyfriend and I these to have in our cars and bags for work, he's more obsessed with it than me and like what man cares for hand sanitizer? They will after using DOM. It's easy and its not too much, the spray is not a hot mess express - the perfect amount comes out. Great for gifts as a post covid treat!!!
---
This hand sanitizer was the best discovery I made all pandemic. The traveller size is perfect for throwing in your bag so you can always have it on you. It's organic and super gentle on my skin without any drying effects. I definitely prefer the lavender scent over the rosemary which is a little bit strong and savoury though my bf prefers the latter. For a premium product I find the price point to be great as well!
---
---
I absolutely love all of DOM's products. I have both the rosemary & lavender sanitizers. I also just received the new lavender organic room spray! All of their products are such a pleasure to use. Not only to they feel & smell great, but they look beautiful so I can leave them on display for easy access!
Feedback
More products please! Hand soap & moisturizer please. :)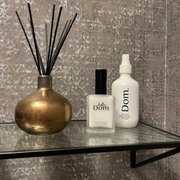 ---
What is Thingtesting?
Thingtesting is an unbiased place to research and review internet-born brands — because honest reviews help us all shop better. Learn more.
---
This is truly the only hand sanitizer I use! It's organic, powerful, smells delicious, keeps my hands moisturized, and comes in these super sleek bottles! Silly to get just 1 - I'd recommend any of their bundles to ensure you always have some Dom on the go!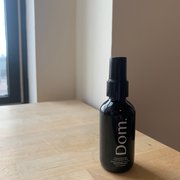 ---
I absolutely love this brand. To start, the packaging and unboxing experience is so special and the product is amazing. I no longer use any other hand sanitizer because nothing competes with the lavender and rosemary scents. Dom is also organic and sustainable and I love to support local brands! Highly recommend :)
---
Obsessed with Dom. Love the quality of the products, the smell of the lavender and rosemary, the look, the branding. Whenever I use the sanitizer around friends or family, everyone wants to know what the amazing smell is. 10/10 recommend!
Feedback
No feedback required. Very satisfied with the products.
---
Dom is the only hand sanitizer I will use, it's truly the best. I love that it's organic, clean, and hypoallergenic. Both the lavender and rosemary smell amazing and make my hands SO soft. Dom's bottle are so chic and look so beautiful displayed on my counters. They also make the perfect gift - anyone who I have given it to loves it! Can't wait for more Dom products!
---
Smells amazing, cute to carry around, no dryness or sticky hands! Love this product!!!
Feedback
More products! Love Dom!
---
Love the smell and the fact that it's natural. It's so easy to keep in your purse and it's not sticky. I don't trust any other sanitizer like I trust Dom!
---