DOLAN
DOLAN makes feel-good scrubs with a focus on size inclusivity and performance-smart fabrics.
shopdolan.com
Average rating from 28 users
96%Recommend to a friend
In Dec 2021, I purchased scrubs from DOLAN. I was looking for something new and had tried several other popular scrub brands. They had limited supply at the time due to the holidays. After months of waiting, they restocked but the fit was different. I submitted a review on their website and the owner contacted me directly. Since that time the company has worked tirelessly to make the most comfortable, sizing accurate and inclusive, breathable scrubs on the market. The fact they are going above and beyond for their customer shows they have heart in the business. I now convince all of my friends and colleagues to switch to DOLAN scrubs!
Feedback
I love not inappropriately flashing patients when I bend or squat as this happens with other scrub brands. The high waist option helps prevent this. The joggers and scrub tops feel like athleisure at work, yet safe enough for spills, etc. I also love the soft fabric. DOLAN continues to improve the fabric to maintain comfort and breathability but preventing pilling or signs of wear. I wear the Underscrubs all the time for work, pajamas, and running errands. The Underscrubs are soft, stretching, and temperature controlling without getting in the way of important tasks. The embroidery capabilities are beautiful too.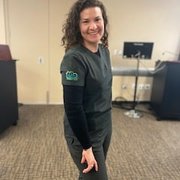 ---
I recently started wearing Dolan scrubs and wish I had started wearing them sooner! They are some of the most comfortable scrubs to wear, they are super size inclusive, and are also affordable! They have so many styles to choose from, as well as a bunch of different color options! I also love that for an additional fee you are able to have to scrubs tops embroidered! As someone in the plus size community I appreciate the wide variety of sizes available and appreciate the fact that there is not a price increase for larger sizes, as I have experienced a price increase in plus size products with other companies. Dolan strives to have their scrubs fit you the way you want, and if you are not happy with the fit you can easily return them! Lastly, if I had to make a list of my favorite scrubs Dolan would certainly be in the top 3!
Feedback
When ordering your scrubs, be sure to use the detailed size chart provided by Dolan! It is the most easy way to figure out the proper scrub sizes you need, and even shows you how to properly take measurements! Also, don't be afraid to reach out to Dolan if you have any questions about ANYTHING! They have great customer service and are always willing to answer questions, or provide assistance!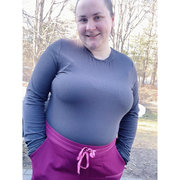 ---
---
I have been wearing a Dolan scrubs for about a year now and I am obsessed with them. I have tried other brands including mandala, mims, and figs, but they never fit my body right. I am petite and used to be a size 18. I would describe Dolan scrubs as similar to figs in style but the fabric is lighter (even their core styles are lighter than figs) and stretchier. The price point is similar to figs but you can often get a discount code and, for me, it's worth it. A few of my coworkers have bought Dolan as well and love their scrubs. I had weight loss surgery a a few months ago and I love my Dolan scrubs so much that once my scrubs were falling off me I bought more Dolan scrubs in smaller sizes because I can't imagine wearing any other scrubs. Even as my body is changing, Dolan scrubs are flattering and comfortable.
Feedback
My ONLY complaint is that I hate all the top styles in their lightweight line, but I like the thicker core line better anyway so it's not a dealbreaker for me. For those that are looking to buy, I would say the sizing runs very similar to Figs. I was a size 18 with a large chest and I used to wear 2XL top and XL bottoms. Now I am a 12 and am wearing large top and medium bottoms. I am 5'1 and the petite length pants fit me perfect.
---
What is Thingtesting?
Thingtesting is an unbiased place to research and review internet-born brands — because honest reviews help us all shop better. Learn more.
---
Best scrubs ever! Such a blessing to have come across this brand because I never thought anything would top the most popular brands I know , but this definitely went above and beyond what I expected out of scrubs. These are crazy soft and comfy that it feels almost like pajamas. There's also amazing stretch but the fit is so flattering. I love that they have XXXS which is exactly what I needed. My favorite scrubs to wear for work.
Feedback
I want a scrub jacket or a white coat!!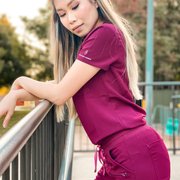 ---
I absolutely love my pair of Dolan scrubs I have! As a new grad, I had heard a lot about the most "trendy" scrub brand (if you catch my drift). However, Dolan was mentioned to me by a friend, as this new brand she had heard of. I decided to order a pair to try, and oh, my, word. They are SO comfortable, and so truly size inclusive. The fabric has stretch, is lightweight, and has so many pockets! I truly believe that they are one of the few overall apparel brands that understands how to make clothes for people—not people for clothes. I want to fill my entire closet with Dolan.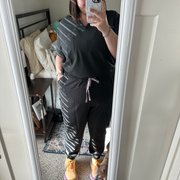 ---
I love Dolan scrubs! I typically wear their CORE scrubs and they're super soft and comfy! They come true to size so you can size down for a more fitted look. I do this and don't feel restricted in my movements at all. I have a pair of their TLC pants and I would recommend this style if you work in a hot/humid environment because the fabric is much more breathable. Customer service is awesome. I ordered the wrong size and getting an exchange was easy breezy.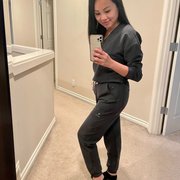 ---
I love Dolan scrubs. As a tall girl it's hard finding scrubs that fit at the waist and are long past my ankles.. but DOLAN is perfect for that !!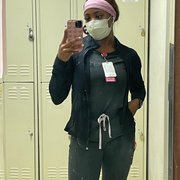 ---
I've loved every pair of scrubs I've received! The quality is amazing, the fit is always true to size and they are so comfortable. Definitely my favorite scrub brand!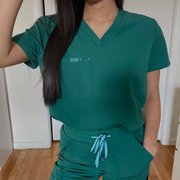 ---
I love my Dolan scrubs! They are now my go to scrubs! The colors are beautiful and vibrant, and the fit is always perfect and it always fits right! I would recommend to anyone and everyone that wears scrubs!
Feedback
I want even more colors 🌈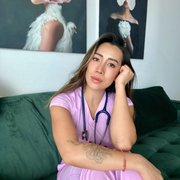 ---
I LOVE my Dolan's. It's tough to pick a style I love the most, but if I had to choose I'd definitely say the TLC collection. They're lightweight, and super breathable, without being sheer whatsoever. The best part though? The come in petite short. NEVER have I ever had a pair of scrubs fit my short legs the way the Dolan TLC petite short joggers do. Would 10/10 recommend Dolan scrubs for any curvy folks as well, these scrubs are SO incredibly size inclusive. You won't be disappointed in Dolan.
---